It's difficult to put into words how great of an experience the ISA Elite program, and the ISA (International Sign Association) Sign Expo in general was because I don't think there's a word that would suffice. Boarding the plane in Milwaukee, I was a bit nervous because I had no idea what to expect. I had never been to an expo before, let alone part of an elite group. After meeting everyone and seeing the show floor, all of those nerves went away.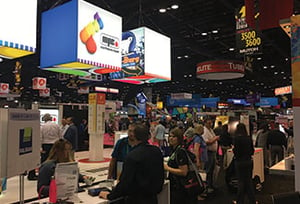 I first learned of the ISA Elite Program during the Wisconsin Sign Association conference in Lake Geneva last summer. Three former Elites presented the program and how beneficial it was to them. I knew at that moment I had to be a part of this program. Entry into the program is a competitive process that involves an application and sometimes presenting your case to a review board. I spent a lot of time perfecting my application. I sent it along with a recommendation from our Sign Division Manager, John Wachniak.
The waiting period was hard with a month passing between the January 5, 2018 application deadline and when I heard of my entry. To say that the month was excruciatingly long is the understatement of the century. I remember being on edge the day I was notified. It was 1:06 p.m. when the email came in from the program coordinator, Ian Mackenzie. I was one of only 35 national candidates chosen for the ISA Elite Class of 2018 out of over 175 applicants. I had been accepted into the most exclusive group of young professionals in the sign industry in a year that, according to program coordinators, was the most competitive on record. That's something that I am proud to hang my hat on.
The ISA Elite Training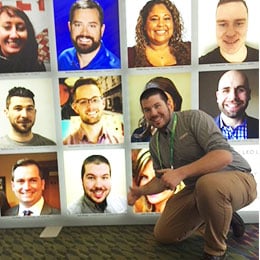 Fast forward to March 2018 and the start of the 3-day ISA Elite program that began with an informal meet and greet. I tried to meet as many people as I could before group introductions and a what-would-you-do-with-a-million-dollars icebreaker. Then, we had 10 minutes to design a sign out of paper incorporating the word "Lori" (Lori Anderson is the CEO of ISA). The winning team made a set of channel letters that said "Lori's Bakery" -- pretty impressive given that they only had 10 minutes. As one of the ISA Elite alumni said, "you get out what you put in." I was determined to step outside my comfort zone and give everything I had to the program. Needless to say, I'm glad I did.
The next days were filled with meals, activities exclusive to the Elites, and showroom tours. We met the ISA Executive Board of executives and owners of national sign companies. Hearing that all of them were at one point in my shoes gave me motivation to keep chasing my dreams.
Our first "Game Changer Session" featured Shannon Huffman, one of the first female Apache helicopter pilots in the US Army. She discussed what it takes to lead from the cockpit and how to act as a leader, not a boss, and how to avoid panic. Shannon told a story of her time in Kosovo where she was flying a mission and was her helicopter was acquired by a surface to air missile. Instead of panicking, Shannon and her crew remained calm, flew away from the situation and continued their mission.
Our second "Game Changer Session" featured "Chef Jeff" Henderson, once the largest dealer of cocaine in San Diego during the 1980's. Jeff found a passion for cooking while serving ten years in federal prison. Upon his release, he dedicated himself to cooking and after years of hard work is now an executive chef in Las Vegas. He's been featured on the Food Network. The main premise of his speech was to never stop chasing your dreams, no matter how stacked the deck is against you, which really resonated with me. I found his speech to be the most impactful moment of my ISA experience.
Our third "Game Changer Session" featured Kim Lear, who gave an enjoyable and interactive presentation on generations in the workforce. Here at Lemberg, I see all types of generations work cohesively and it makes me proud that Lemberg is sensitive to generational differences.
We participated in workshops on electrical codes and digital signage, in which I learned more about the strict restrictions for EMC signage in Milwaukee. I picked up some tips on how to win over a planning commission by including public service uses for privately owned message centers. The instructor gave a scenario, "what if you just kidnapped somebody and you're driving down the road when all of a sudden you see a sign saying, 'Amber Alert- 2009 white Toyota Corolla license plate 123-ABC' and you're driving a 2009 white Toyota Corolla license plate 123-ABC?" I'd never thought to suggest displaying Amber Alerts!
In a workshop on project management, I learned the importance of saying, "thank you." Hearing it from the instructor reinforces my belief that when someone does something for you, no matter how big or how small, they deserve a "thank you" at the very least.
The ISA Elite Connection
My favorite times during the ISA Elite program were the socials. It's amazing how 35 strangers can come together and have so much fun together after knowing each other for a short while. Again, "you get out what you put in!" These were my absolute favorite parts of the trip because I could see the real people behind the professional images. I even met a gentleman from Wisconsin who is currently supplying Lemberg with a transparent EMC – the first of its kind for Lemberg. It's difficult to imagine, so watch for photos on the Lemberg Signs Instagram account (@lembergsigns).
On our last day together, we met with ISA executives over breakfast to talk about leadership, work life balance, and how the executives got to their current positions. My takeaway is that you can be successful if you learn from the mistakes and work hard to continuously improve.
I was honored to be part of such an exclusive group.
Post Script
It is next to impossible to find a word to describe the ISA Elite. If anyone reading this is in the sign industry, and is under the age of 35, I highly recommend applying for the ISA Elites. The knowledge and friendships you gain in 3 short days is invaluable. In October, we will all be meeting again at the ISA headquarters in Washington DC where we will attend a leadership retreat with the ISA Executive Board. I cannot wait to attend the retreat, and also get to see my 34 sign geek friends again!