Electrical Construction Team Takes a Proactive Approach for Froedtert ISC
Background and Goals
The Froedtert Hospital Integrated Services Center (ISC) is located in Menomonee Falls, Wisconsin. The center was designed and built to bring data storage, pharmacy, distribution, printing shop and supporting functions into one, free standing location. Lemberg's electrical construction team was brought on board to install the facility's distribution and branch power.
Since the data center within the facility stores important patient information, it was critical to provide a reliable infrastructure that not only protects the facility but also provides room for future expansion.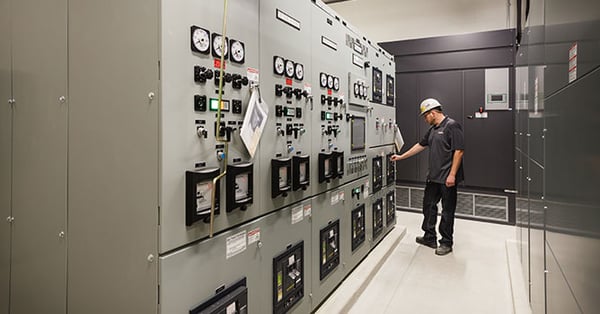 Strategy/Approach
The ISC project had an aggressive timeline. Lemberg's team worked closely with the project designers, Eppstein Uhen Architects and Technology Management, and the builders, Ryan Companies. The Lemberg team needed to find solutions that met functional needs of Froedtert and would not delay the project.
An auxiliary building would provide an enclosure for two emergency generators and provisions for a third. Each of the 1000kva generators came with its own fuel 1200 gallon fuel tank. Just one of these giants would be enough to power the entire facility, but the design included two, creating a second layer of protection. Lemberg's electrical construction team had to calculate the spacing based on the manufacturer measurements of the units. The piping was run and cement foundations laid before the generators were installed.
Results
Lemberg's electrical construction team met the timeline with no delays. They successfully installed branch and service wiring to both generators in the auxiliary building, providing a backup to the backup and ensuring uninterrupted patient care. The generators are capable of providing full power in under 10 seconds, during which time a UPS power source is used to absorb the gap.
The Lemberg team also designed branch circuiting and lighting and installed the power panels for the main service distribution throughout the facility. These are located in the main building, connected by three levels of electrical wiring.
Impact
The ISC is now equipped with a well-designed system of circuits and electrical panels that provide power for full operation today, meet the requirements for emergency backup, and are ready for future expansion.