Union Camaraderie Brings Success in High Traffic Location
Background and Goals
The Teamsters Local 344 is part of a larger International Brotherhood of Teamsters in the United States, Canada and Puerto Rico, that provides collective bargaining and negotiations to workers for fair wages, promotions, health coverage, job security, paid time off, and retirement income.
The Local 344 building is located at 10020 W. Greenfield Avenue – a very busy location at the intersection of the Wisconsin Interstate 894 bypass and Greenfield Avenue, a major east-west corridor newly renovated to accommodate offloaded and rerouted traffic during reconstruction of what is commonly referred to as the "zoo interchange."
Local 344 officials recognized the advertising advantages of their location. They began to examine ways to enhance their current signage to maximize their marketing potential.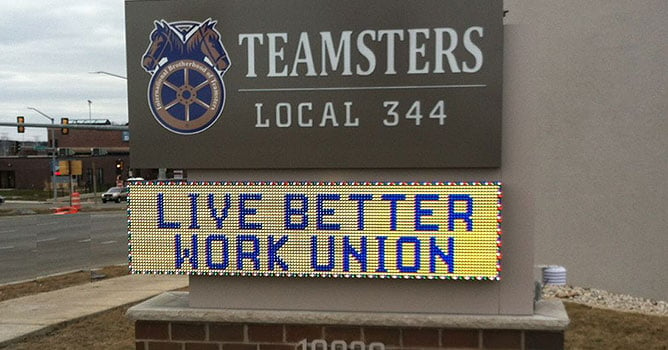 Strategy/Approach
First, it was important to the Local 344 that they support other union organizations. Lemberg, a member of the International Brotherhood of Electrical Workers (IEBW) Local 494, came recommended after work the team had done for a local brick layers union.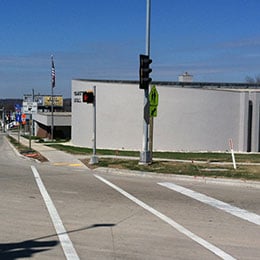 Lemberg's design team studied the unique and asymmetrical architecture of the Local 344 building, which sported a curved exterior wall that jutted up and above the main roofline. The building exterior was made from a plain, smooth, creamy gray concrete accented with red brick (see photo).
The design team took advantage of the viewer's perspective and used the bare quality of the building to offset and frame monument signage. The team recommended incorporating the brick and building texture and colors into a new illuminated monument sign with integrated, full color Electronic Message Center (EMC) placed near the freeway off-ramp.
Results
The high resolution, 16mm, full color electronic message center illuminated with high efficiency LEDs integrated into a well-designed monument sign was installed at the southern edge of the property with plans to landscape at its base.
Since the building's previous identification was limited and offered no way to communicate with the community, Local 344 was excited for the marketing possibilities enhanced by the new EMC.
Teamsters Local 344 now has clearer and more prominent identification of their building. They group has the ability to advertise events and market themselves to both vehicular and foot traffic. The EMC allows the local union maximum marketing benefit, allowing officials to change messaging often to reach the thousands who pass by their location daily.
Impact
The integrated EMC is a dynamic marketing tool for the promotion of the Local 344. The monument sign well identifies the building and the EMC allows the Local 344 to connect with the community via messaging.
The EMC can accommodate frequent message changes and allows Local 344 to "give back" to local charities through advertising. The sign has become a messaging tool that informs and identifies Teamsters Local 344 to the public on one of the busiest intersections in southeastern Wisconsin.