Building Relationships to Support the Milwaukee Art Museum Visitor Experience
Background and Goals
The Milwaukee Art Museum (MAM) is a premier educational resource and museum that services 400,000+ visitors annually and includes the War Memorial Center. Situated on the Milwaukee's Lake Michigan downtown shoreline, the MAM adds to the city skyline with its distinctive and bird-like Santiago Calatrava architecture.
When the MAM campus underwent renovations and expansion, the needs for additional low voltage, IP security camera and wireless cabling throughout the expanded areas and the War Memorial building were identified. Additionally, the main location had to be digitally connected to staff who were being relocated to new office space in the 1930's Milwaukee historic landmark building known as the "Wisconsin Gas Building," located just west of the MAM campus.
With each project, Lemberg's data communication team worked with MAM officials to find the most appropriate and efficient solutions. The relationship that was cultivated in the process exemplifies the value of customer-centric thinking.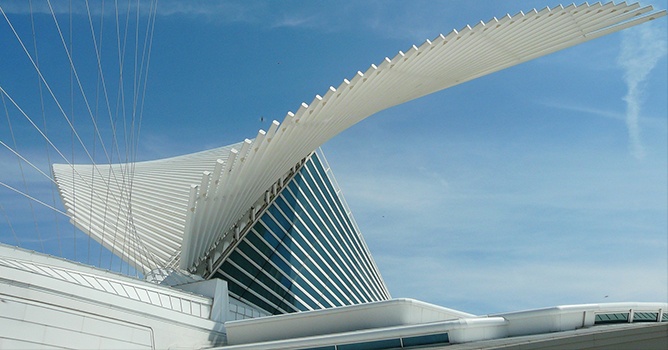 Strategy
After assisting the MAM with low voltage cabling for the renovated and expanded spaces at the main campus location and War Memorial Center, the team was asked to prepare the historic Wisconsin Gas Building for the relocated MAM employees.
To connect this satellite location with the main MAM museum building, MAM officials devised a "line of sight" outdoor wireless network, including the installation of cabling and a wireless receptor at the satellite that exchanges signals with the same technology on the main MAM campus. Lemberg went to work implementing that infrastructure, working closely with MAM.
Results
The unconventional solutions created by MAM and implemented by Lemberg's data team now provide a seamless and affordable connection for the newly extended MAM campus. Additionally, the main location is now outfitted for future growth with the appropriate low voltage access cabling and the War Memorial Center is equipped with an IP security camera system around the periphery of the building.
Impact
The customer-centric attitude of Lemberg's data communications team has helped to build trust with MAM officials, who can rely upon the team as an extension of their own staff. The teams will work together on future efficiencies that will support the Milwaukee Art Museum in creating an unforgettable visitor experience.