Lemberg Tackles Racine and Kenosha with Dedicated Outside Sales
Company hires Gary Wenzel to Earn Market Share in FoxConn Development Area
Brookfield, WI (July 29, 2019) – Lemberg, a local provider of electrical, data communications and commercial sign services, added Gary Wenzel as Outside Sales Representative for its Signs and Lighting Division. Wenzel joins a growing team of sales, design and installation professionals at the company. He will be responsible for the division's new business development, focusing on the Racine and Kenosha areas.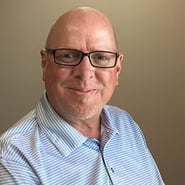 "Gary's proactive approach to the sales process make him a unique addition to our growing team," Lemberg Signs and Lighting Division Manager John Wachniak said. "We're glad to have someone with his expertise and knowledge on board to manage the expanding southeastern Wisconsin market."
Wenzel brings over 20 years of business-to-business sales and business development experience to his new role. His background includes success with large local, regional and national corporations and vendors within the sign industry. He has serviced accounts in a variety of markets including theater and entertainment, education, religious, transportation, military, civic, automotive, manufacturing and retail. Wenzel's technical education and experience in the digital LED sign industry will be critical components in this outside sales role, according to Wachniak.
"I am glad to continue my career in the sign industry," Wenzel said. "I am excited to be at an employee-owned company like Lemberg, where I can really make an impact."
About Lemberg Signs and Lighting
Lemberg Signs and Lighting provides quality, state-of-the-art, commercial indoor and outdoor sign solutions. The team includes licensed electricians, award winning designers and professional project managers. As a division of Lemberg Electric, Lemberg Signs and Lighting offers custom sign design and fabrication, OSHA trained installation experts with high-rise and high-density experience, and agile project management. The division serves customers from the Midwest and across the nation. Find out more about the Signs and Lighting Division at www.lembergelectric.com/signs.
About Lemberg
Lemberg Electric Company, Inc., was founded in 1928 in Milwaukee and serves the southeastern Wisconsin business community in electrical service, sign design and installation, data communications, energy technologies and electrical construction. The company is located in Brookfield, Wisconsin. Visit us at www.lembergelectric.com and find us on Facebook, LinkedIn, Google and Instagram.
####