Lemberg Master Electrician Recognized for Practical Skills: Matt McCarron Earns High Honors
Brookfield, WI (May 30, 2019) – Lemberg is pleased to announce that Master Electrician Matt McCarron has completed his apprenticeship and has been awarded the Practical Skills Award from Milwaukee Area Technical College (MATC) at the MATC Apprenticeship Banquet held on April 24 at the Italian Community Center in Milwaukee. The event signifies the end of the formal apprenticeship training for electricians and awards individuals for practical excellence.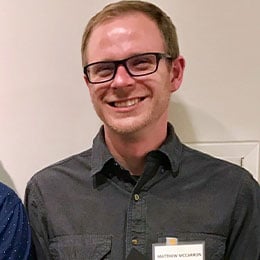 "It's nice to be recognized," said McCarron. "It was five years of hard work. I've come a long way."
The Practical Skills Award is recognition of the skills and work quality of apprentices at each level. Awardees are chosen by the instructors within the apprenticeship program of the Milwaukee Electrical Joint Apprentice Training Committee, which are also licensed instructors at MATC with experience in the electrical field. Apprentices are nominated based on classroom and on-the-job performance.
"We're happy to welcome Matt to our Service team," said Jeff Olson, Senior Service Manager at Lemberg. "Having someone of Matt's caliber in our company and specifically on the Service team is really a great honor, and we are very excited to work with him."
McCarron became a Master Electrician in December of 2018, the terminal designation for an electrician. Licensure is based on the ability to pass an industry test, which is enhanced by classroom instruction and on-the-job training. He plans to continue his education through additional certifications while working with the Service Division at Lemberg Electric Company, Inc., in Brookfield.
"I enjoy working in service," McCarron said. "The scenery changes quickly and every day is different. You learn more and get such a wide range of projects from commercial to residential."
For more information on electrical apprenticeships in the Milwaukee area, contact the Milwaukee Electrical Joint Apprenticeship Training Committee, 414-543-9060 or MATC, 414-297-MATC.
---
Lemberg Electric Company, Inc., was founded in 1928 in Milwaukee and serves the southeastern Wisconsin business community in electrical service, sign design and installation, data communications, energy management and electrical construction. The company is located in Brookfield, Wisconsin. Visit us at www.lembergelectric.com and find us on Facebook and LinkedIn.
####