Lemberg Supports MSOE students in the Green Energy Challenge
Each spring, Lemberg works with the National Electrical Contractors Association (NECA) Student Chapter at Milwaukee School of Engineering to guide students through a project. This year the group participated in the ELECTRI International Foundation's Green Energy Challenge.
2016 Green Energy Challenge
Electrical professionals from Lemberg met with a team of nine architectural engineering students who are part of the 2016 Challenge. The students are challenged to retrofit Deer Creek Intermediate School in St. Francis, Wisconsin, with technical upgrades like energy efficient lighting, occupancy controls,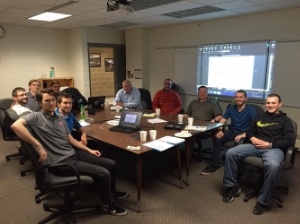 and a photovoltaic system that will increase energy efficiency and add to the school's research-based science curriculum.
Lemberg provided guidance and spoke with students about their approach to the challenge and the technical possibilities for solutions. The nine students all have an electrical specialty within their major at MSOE. They were accompanied by their academic adviser, Christine Brotz, P.E.
"I enjoy working with the next generation of electrical contractors," said Gerry Maier, service manager at Lemberg and main liaison to the students. "It is nice to see students interested in the electrical field. I was mentored early in my career and so this is my way of giving back."
Lemberg is a member of NECA, the premier professional organization for electrical contractors.
More About the Challenge
The Green Energy Challenge requires students to submit proposals for solutions to design challenges. Teams who enter the final round of judging present their ideas and winners receive prize money for team presentations. Prize money ranges by level from $500-$4000.
Scoring is based on various criteria in the following categories:
Process
Technical
Outreach & Engagement
Format
Project Management
Professionalism
Find out more about MSOE's involvement in the Green Energy Challenge.
Get more Lemberg news.