Lemberg celebrates 90-year anniversary: ESOP reaches 25 years
Brookfield, WI (February 22, 2018) – Lemberg celebrates dual anniversaries in 2018. The company recognizes its 90 years in electrical contracting and 25 years of being 100% employee-owned under the Employee Stock Ownership Plan (ESOP). The company will commemorate these milestones with several initiatives throughout 2018.
"While the company is 90 years old today, it was reborn in 1992 when it transitioned to an ESOP ownership structure," said David Washebek, president and chief executive officer at Lemberg. "It was then that the journey to become the professional organization we are today truly began. The structure of Lemberg allows the company to grow and sustain itself for the next 90 years."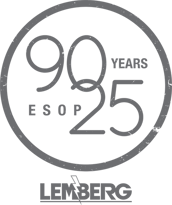 Lemberg Electric Company, Inc., was founded by William and Clara in Milwaukee in 1928. The company has seen steady and stable growth from a small, local electrical contractor to a major contender in the southeastern Wisconsin market. In 2014, the company rebranded to simply Lemberg, using specific iconography to identify five separate divisions -- electrical service, construction, business sign design and installation, data communications, and energy technologies.
"As the market demands change, we are positioned to respond and implement the necessary training to support a successful outcome," said Tim Scheid, executive vice president and chief operations officer at Lemberg. "Lemberg's growth strategy is tied to the diversification of our services and the empowerment of our leadership staff."
Today, Lemberg provides expanded, turnkey services within its commercial niche serving construction, industrial/manufacturing, property development, healthcare, education, civic, retail, hospitality and entertainment industries. According to Scheid, the company is committed to continuous improvement with a focus on operations, annual strategic planning, and leadership development.
"The best way to predict the future is to create it," adds Washebek. "We have created a template that will guarantee the company's success for generations to come."
The company is located in Brookfield, Wisconsin, at 4085 N. 128 Street. In 2016, Lemberg expanded its second-floor space to include a 7,600 square-foot, state-of-the-art training facility to serve employee and community needs. Another expansion, which includes 12 new offices, a conference room and a shared work space, will be completed in the second quarter of 2018.
Lemberg was recognized for its rapid growth by peers and customers, earning a Future 50 designation from the Metro Milwaukee Association of Commerce in 2017. The company is a member of the Milwaukee Chapter of NECA (National Electrical Contractors Association) and is signatory to the International Brotherhood of Electrical Workers IBEW Local Union 494.
Additional information can be found at www.lembergelectric.com/90-25-anniversary and socially on Facebook, LinkedIn, Google and Instagram.
####
Lemberg Electric Company, Inc., was founded in 1928 in Milwaukee and serves the southeastern Wisconsin business community in electrical service, sign design and installation, data communications, energy management and electrical construction. The company is located in Brookfield, Wisconsin. Find us on Google+, Facebook, LinkedIn and Instagram.