Zach Wenger named to ISA Elite Class of young sign professionals: Represents Lemberg at International Sign Association Expo
Brookfield, WI (February 6, 2018) – Zach Wenger has been accepted into the International Sign Association's Elite Class of 2018. Wenger, a project manager for the signs and lighting division at Lemberg in Brookfield, WI, is one of 35 young professionals across who have been selected for their displays of expertise and leadership to participate in this program, which takes place during the ISA International Sign Expo in Orlando, FL, March 21-24, 2018.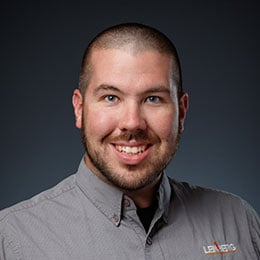 "Being selected has been surreal," says Wenger. "I'd heard about the ISA Elite last year and knew that I wanted to be part of it."
The ISA Elite distinction is part of an industry program to bring the best and brightest young talent together for networking, education and leadership in a 2-day leadership retreat during the Expo. The application process for the Elite Class includes a written biography, background, and a nomination from a colleague. Applicants must also meet the following criteria:
be born after 1983
be currently employed in the sign, graphics and visual communications industry
be a member of the ISA
"Zach is a wonderful leader and role model to other young professionals seeking to have a positive impact through his hard work and dedication to the sign industry. His time, talent and commitment to our company mission have had a positive impact on his peers and the growth of our company," says John Wachniak, manager for Lemberg Signs and Lighting.
The ISA International Sign Expo is a sign industry show of talent, new products, technology and industry trends held annually in either Las Vegas, NV, or Orlando, FL. The show features over 600 exhibitors and opportunities to learn through seminars, demonstrations and networking. The show also features awards for innovation in three categories: print, signage and business solutions.
The ISA offers memberships to over 2,300 professionals in the sign and visual communications industry. Members represent the 54 countries and are manufacturers, end-users and suppliers.
More information on the ISA Elite Class distinction and the ISA Expo can be found at www.signexpo.org/show-features.
####
Lemberg Electric Company, Inc., was founded in 1928 in Milwaukee and serves the southeastern Wisconsin business community in electrical service, sign design and installation, data communications, energy management and electrical construction. The company is located in Brookfield, Wisconsin. Find us on Google+, Facebook, LinkedIn and Instagram.