October 2020 – Lemberg President and CEO David M. Washebek was elected by the National Electrical Contractors Association Board of Governors to be Vice President of its fourth district, which includes Wisconsin, Michigan, Illinois, Indiana and the western portion of Kentucky. Washebek will serve a two-year term. He is one of five unopposed candidates moving into district leadership roles. The election took place on October 5, 2020.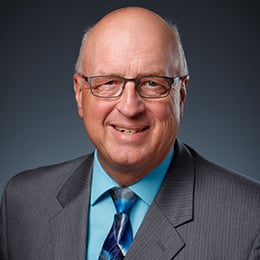 "To be nominated and elected by my peers at both the regional and national level is an honor," said Washebek. "I am humbled by this show of confidence and will do my best to be the servant leader that the NECA Chapters in District four deserve."
Washebek has been an active member of NECA and a key influencer for the group in the Milwaukee area. Though this new position, he will provide leadership for the promotion of the NECA policies and programs at the national, regional and local level. He will continue to serve Lemberg in his executive capacity throughout this NECA appointment.
This NECA vice presidency is the second career distinction Washebek received this year. He was recently chosen as Fellow of the NECA Academy of Electrical Contracting, a distinction recognizing his local and national contributions to the industry over the course of his 42-year career.
About David M. Washebek
Washebek has been a strong advocate for safety and electrical code and a leader in lean electrical construction practices. He holds certifications in robotics, microelectronics, transformer design, digital electronics, and is a licensed master electrician and electrical design engineer. He currently serves as Governor as well as Chairman of the Sound and Communications Labor Agreement Committee for the Milwaukee Chapter, NECA. He also sits on two committees: the Material Handler Labor Agreement Committee and the Lemberg Sign Agreement Committee.
Washebek is the current president and CEO of Lemberg Electric Company, Inc. in Brookfield, Wisconsin. During his leadership tenure at Lemberg, he has helped grow the company to include five areas of services including electrical construction, electrical service, data communications, energy technologies and custom business signs. He was an original participant of the company's Employee Stock Ownership Plan (ESOP), formed in 1992, and a trustee since 1997. The ESOP serves as a strong basis for the company's culture today. Most recently, Washebek led Lemberg in its application of Agile Construction® to large projects, a program that keeps jobsites cleaner, leaner and more safe.
About NECA
The National Electrical Contractors Association (NECA) is an organization the advocates, educates, performs research and develops industry standards for the electrical industry in the United States. Its purpose is to assist member companies. There are 10 districts within NECA with new elections for half occurring in alternating years.
About Lemberg
Lemberg Electric Company, Inc., was founded in 1928 in Milwaukee and serves the southeastern Wisconsin business community in electrical service, sign design and installation, data communications, energy management and electrical construction. The company is located in Brookfield, Wisconsin. Visit us at www.lembergelectric.com and find us on Facebook, LinkedIn, Google and Instagram.