Profile of Excellence
A Leader with a Balance of Practical and People Skills
Spend five minutes with Andy and you'll feel like you've reconnected with an old friend. Andy's easy-going, relaxed nature is evidence that he's got everything under control. And, that's a pretty decent quality to have when you're an electrical construction foreman.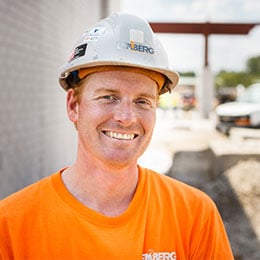 Among Lemberg's best construction project leaders, Andy takes jobs from start to finish, interpreting plans and bringing the architect's vision to life in the field. For the last 15 of his 20-year electrical career, his job was to manage day-to-day site operations. He handled building information modeling (BIM) coordination, safety, onsite coordination with other trades, manpower, and scheduling material. He has the technical expertise to know when something isn't going to work and the ability to communicate and coordinate the details to his team, the other trades on the job, and the general contractors.
"Andy's knowledge continues to expand as he looks for new ways to assert his talent," said Superintendent Ted Cyrs. "He has a good balance of practical and soft skills and he continues to grow with each new experience. I look forward to seeing what Andy's talents can bring to every project in the future. Andy has and I think always will have Lemberg's best interest at heart."
Today, Andy is aiming all that field experience toward an intermediary position between the planning stage of a project and the actual construction stage, where he'll be focusing more time on detailing projects through building information modeling (BIM).
"I enjoy laying out the plans, overseeing the ongoing operations of the job to see what is working and troubleshoot what isn't," he says. "But, out of all the things I get to do in my job, I enjoy the detailing the best – that and seeing it all come together in the end."
Moving to an enclosed office environment is quite different from the field Andy is used to, but he's excited to bridge the gap between the planning stage and the construction stage and work to make projects leaner and more efficient.
I'd like to see how we can take our projects to the next level by applying technology.
"I don't like surprises," he says, "especially in the field. I'd like to help integrate the trades, architects and the engineers earlier in a project. I'd like to see how we can take our projects to the next level by applying technology."
His Path to Lemberg
Andy's path to the electrical industry started while he was in college on track to becoming a teacher -- a history major who loves to tinker with mechanics and dabble in woodworking, golf and guitar. He spent summers working as a seasonal laborer, who gave him a baseline exposure to the construction industry. After graduating from college with a bachelor's degree, Andy was introduced to the electrical apprenticeship program – and he's never looked back.
"I've always liked working with my hands and I get bored if I am not challenged," he says. "The electrical field offers a variety of opportunities."
Lemberg has been Andy's home-base since applying for his apprenticeship. He's progressed to journeyman to master electrician and then to project lead/foreman. And, with the development of his new intermediary role, he sees no reason to think he'll be anywhere else in the future.
"Lemberg was where I was sent as an apprentice. I never wanted to leave and they never asked me to. Lemberg has a variety of work and projects both large and small."
Notes for a New Generation
As someone who's spent his entire career in the electrical field, Andy has some advice for others considering the same – advice that came to him through his trainer at the Milwaukee Electrical Joint Apprenticeship Training Center.
"If you're here for the money, walk away now because you won't last. And, you have to accept that you're going to get dirty, wet, cold, and have a few aches and pains from time to time."
Andy admits the electrical field can be tough, but it's an excellent career choice to consider especially if you are a good communicator. He considers communication skills to be the most important skill to have followed closely by problem solving, organizational, and computer skills.
"The electrical field can challenge you on a small or large level, but you'll gain a skill set that transfer to a lot of places."
That's certainly true for Andy. As an emerging leader at Lemberg, he joins others who've made similar moves to challenge themselves to be better every day. The learning never stops, and that suits Andy just fine.
---
Lemberg is a full-service Milwaukee sign, electric and data communications company, proudly serving Wisconsin. Contact our experts for a free quote today, 262-781-1500.