Profile of Excellence
Creative Problem-Solving with a Mechanical Mindset
Ramona, one of Lemberg's sign division project managers, takes pride in creative problem-solving as she coordinates with general contractors, business owners, designers, manufacturers and municipalities to provide the best customer experience possible.
From gathering material to sign code investigation, Ramona thrives on helping a variety of customers by utilizing her mechanical and aesthetic skillset.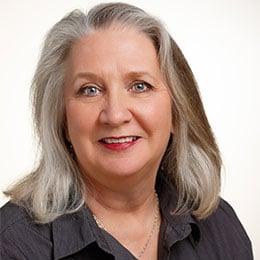 "If you can help the customer make a good first impression, it is very satisfying. A sign is not just a sign, it is your businesses' identity."
"If you can help the customer make a good first impression, it is very satisfying." -- Ramona
Although Ramona somewhat "fell" into the electrical/sign industry, it certainly aligns with her background and specialty in wayfinding. With a BS in Geography and minor in Biology, she has always had an interest in mechanics and science.
She held positions in cost estimation, steel fabrication, process engineering, machining and electromechanical assembly. It is no surprise that she is mechanically motivated, but also mentions that individuals in this trade must be very organized, proactive and able to communicate well with all levels of professionals.
Her Path to Lemberg
Prior to becoming a part of the Lemberg team, Ramona was a Lemberg customer, obtaining signage while with another employer.
Once she discovered that there was a specific sign division that was dedicated to the design, manufacturing and installation of interior/exterior business signage, Ramona applied for the opening that was available at the time.
She was immediately drawn to the great team, the ESOP status of the company and the nature of the job itself. Today, she truly believes that the people that she works for and with are simply "excellent." She mentions, "I like the variety and being able to help people – to advise them."
Her Advice for Newcomers
Ramona describes that there are times where unfavorable news must be delivered. An unexpected change in plans may delay or alter a project – whether it be a postponement in construction, material, manufacturing or other areas within the development. This news is challenging to present to a customer. Her advice?
"Remember, it is not about you – it is about the situation."
A small curveball or delay, however, does not slow this industry, or Ramona, down.
"What is great about this industry is that you get to know the new businesses and developments in town – you get to keep up with all of the current trends. It is very high-energy and fast-paced."
There is something new in the sign industry every single day. Ramona feels that this role is very much "a great industry for creative minds who are comfortable with ambiguity and great with people," which she represents well herself.
Colleague and Sign Division Manager John Wachniak explains, "In business, it is important to find team members that you can count on – Ramona is one of those reliable, steady people. Her spirit, passion and industry knowledge makes us a better team."
What's Next?
When asked where she sees herself in the next five years, Ramona lightheartedly replied, "Where do I see myself? Retired!" She may also continue to do some consulting work for signage in the future.
Until then, Ramona continues to enjoy every new project that comes her way with a bright vision in mind and the best interest for each customer.
---
Lemberg is a full-service Milwaukee sign, electric and data communications company, proudly serving Wisconsin. Contact our experts for a free quote today, 262-781-1500.