Profile of Excellence
A career beginning, an education ending, and 30-years in between at Milwaukee's Bradley Center.
What do Milwaukee's BMO Harris Bradley Center and Lemberg have in common? They have a 30-year history with an electrician named Ted, whose first job after college was as an apprentice electrician building the Bradley Center. Back then, Ted was a young go-getter with some great mentors and the Bradley Center was just beginning to make its mark on Milwaukee.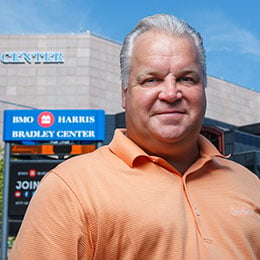 "One day, my foreman at Lemberg asked if I had any concerns about heights," says Ted Cyrs, superintendent for Lemberg's electrical construction division, remembering his early days at the Milwaukee sports venue. "The next thing I knew I was working 180 feet above the Bradley Center floor on a catwalk installing the lighting." He laughs. "They gave me a week to see if I still wanted to be an electrician."
Ted is now a master electrician and project superintendent and field coordinator at Lemberg. He matches field crews to projects all over the southeastern Wisconsin, including the Bradley Center in downtown Milwaukee, which is being replaced this fall by the soon-to-be-officially-named Wisconsin Entertainment and Sports Center. Ted credits his mentors for helping him find his path to the electrical field and teach him the finer points of management.
"Ted has a healthy balance of empathy and expectation when it comes to his crews," says Vice President for Construction Pat Antkowski. "Ted is motivated and knowledgeable – a real asset to the company."
Through the Bradley Center and beyond
At 19, Ted was studying to be an architect at the University of Wisconsin – Milwaukee. Realizing architecture couldn't hold his interest, he changed his study track to electrical engineering and transferred to the Milwaukee School of Engineering (MSOE) where he met the then-president of Lemberg, Ron Maassen. Maassen introduced young Ted to the electrician's apprenticeship. His first job was the new professional basketball arena in the heart of Milwaukee.
Since his first days at the Bradley Center, Ted has managed many large scale projects for Lemberg including five major hospitals and two shopping mall high voltage expansions in Milwaukee. His loyalty to Lemberg is palpable as he speaks of his professional journey. Ted is quick to point out that his loyalty was instilled in him by some influential Lemberg leaders that have spanned his employment with the company.
"I truly enjoy coming to work every day," Ted says."You're not just bending pipe, pulling wire, or installing fixtures, you're building someone's future business."
Today, Lemberg has new leadership and is employee-owned but the essence of the company – the pride, the dedication – stills exists. According to Ted, management is approachable and the culture has an ease about it that is at once professional and casual. The company continues to grow from the 35-40 employees when Ted first started to over 150 in the field today. The right people are in the right places, according to Ted, and the administrative employees are motivated by their joint ownership to serve the customers.
"It's our attention to building relationships with employees, general contractors, vendors, and customers," Ted says, "that will drive us into the future."
Photo: BMO Harris Bradley Center 2017 (credit: Jay Westhauser for Lemberg)
On mentoring the next generation of electricians
Motivated by the problem-solving and complexity of large jobs, Ted organizes, directs, and puts his electrical experience to work on the job. What Ted finds most rewarding about his work are the people. He enjoys finding and mentoring young construction wire-men (CWs) and apprentices and teaching them the "Lemberg way."
"My role allows me to visit the job sites and share practices that have worked for me and make the next generation successful," he says. For him, this management side of the industry is just as interesting as the field side.
Ted looks for a new generation of driven, dedicated, quick learners and works hard to bring out the best in others, placing the field employees into projects that will bring out their best qualities.
Bittersweet passing of an era
Ted has come a long way since his days on the catwalk at the Bradley Center. He admits that seeing it come down will be bittersweet, but he knows that it will be best for Milwaukee.
"It was an incredible ego boost to be involved in a project of that magnitude at such a young age," he said. "I take great pride in the work we did there. It's a great memory to share with my family."
One of the last events to be held at the Bradley Center before its demolition this summer was the 2018 Marquette University Spring Commencement on May 20, 2018. Coincidentally, Ted's son crossed the stage that day, ending his first stage of higher education – a fitting end to a very special era for Ted as well.
Demolition of the Bradley Center is ongoing. Watch the implosion of Bradley Center, which took place at 9:00 a.m. on Sunday, January 13, 2019.
---
Lemberg is a full-service Milwaukee sign, electric and data communications company, proudly serving Wisconsin. Contact our experts for a free quote today, 262-781-1500.