Profile of Excellence
Award-winning Passion
Meet Tony, a certified Lemberg electrician, who recently won the Q3 Award for excellence given by Lemberg's customer, Hunzinger Construction. Tony's passion for his trade shows in his ability to motivate his crew and produce excellent results.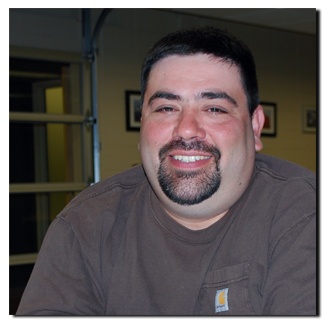 It took some convincing, but we managed to get this humble guy to sit down and talk about his path to becoming an accomplished electrician.
"When I was a kid, I liked to tinker," he said. "My mom would buy me a toy and I'd take it apart and make something else. I remember being fascinated by electricity."
His Path to Lemberg
Tony started on the college track before choosing to become an electrician. He admits his false start was to please his mother. "I always knew I wanted to be an electrician."
"I always knew I wanted to be an electrician." -- Tony
He was disappointed to learn that he'd missed the application cut-off for the Milwaukee Electrical Joint Apprenticeship Program and would have to wait a year to re-apply. So, he enrolled in an electrical course at Milwaukee Area Technical College where his comfort and motivation for his new career choice grew. He has always seen his trade as a career, but he noted that "lots of people look at it as a job and not a career."
After 19 years in the trade, Tony is now a foreman and he still exudes a passion for his trade. He enjoys seeing his projects come to completion and feels fortunate to have been able to work on large venues like Miller Park.
"Tony is very meticulous. He attacks a job early and prepares to make it a success," said Ted Cyrs, Project Superintendent at Lemberg. "When Tony's on the job, I know the client will be extremely satisfied with the quality and craftsmanship in Lemberg's work!"
His Advice for Others Considering the Electrical Trade
Would Tony recommend his trade to someone looking for a profession?
"Absolutely!" Tony is emphatic about the electrical trade and he admits that a good starting wage and benefits are great draws. He is quick to add that to be a successful electrician, one must have a few inherent skills: mechanical aptitude, good math and problem-solving skills and, most of all, being able to take direction and work with others.
"I like the camaraderie between the trades on a job site," he shares. The more accelerated the job, the greater the need for teamwork among the trades. Tony notes that having a mutual respect for the members of your crew as well as those of other crews is important. "There are a lot of moving parts," he added and when the job doesn't go according to the plan, it's important to be flexible.
"As foreman, you're a bit of a matchmaker," he said of his work. Putting the right folks together to get the most productivity is challenging at times. "I try to use everybody for their strengths … you have to feel out the crew and see what they know and what they can do and then put them in the right place."
It's that balance-finding attitude that serves Tony well among his crew!
---
Lemberg is a full-service Milwaukee sign, electric and data communications company, proudly serving Wisconsin. Contact our experts for a free quote today, 262-781-1500.