Back To Projects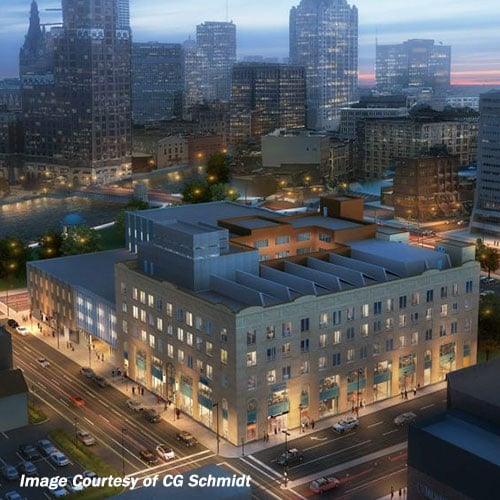 Journal Square
This project was the redevelopment of the former Milwaukee Journal Sentinel headquarters in downtown Milwaukee of State and 4th street. This 6-story landmark building is being transformed into 141 individual living apartments with underground parking. The top 5 floors are living space and the ground level is reserved for a future commercial build-out.
Lemberg's electrical construction team provided design build services for the project which includes two electrical services:
One 1600 amp, 480V, 3-phase. This 480V service will be backed up by a 150kv generator.
One 3000 amp, 120/208V, 3-phase
The fourth floor, which formerly housed the Journal/Sentinel publication's main offices, is being renovated into several gathering and amenity spaces for new residents. The historic integrity of the building, including the ornate woodwork and murals will be preserved. On the sixth floor, a new outdoor, east-facing balcony will utilize Lemberg's prefabrication services.
Project Features:
Design Build
Electrical wiring
Electrical service
1600 Amp, 3000 Amp
3-phase
Historical
Prefabrication
Details:
Location: Milwaukee, WI
Industry: Multitenant Residential
Divisions: Construction
Project Type: Remodel/Expansion/Upgrade
Year Completed: 2022