Experience Trumps Price for Fabrication Company Move
Background and Goals
Metalspun Products Company, Inc., provides cost-effective, custom fabrication of metal products. The company has served customers in the lighting, commercial food, transportation and HVAC industries since 1948. Located in Oak Creek, Wisconsin, Metalspun specializes in precision hydroforming and metal spinning, working with a wide range of materials such as sheet metal, aluminum, stainless steel and other metals.
In March of 2016, Lemberg's Service team was contacted by Metalspun. The company had outgrown their location and were planning to occupy a new and larger building just across Drexel Avenue. They reached out to Tim Hagen, a veteran of the field and master electrician at Lemberg who applies his extensive field experience to assist customers in determining the best approach to complex problems.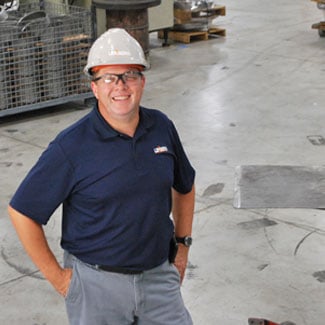 Strategy
Tim spent time touring the existing plant and examining the layout of machinery. He listened to the initial requests for electrical work and the plans to move the operation to a new building.
Based on his experience with plant relocations, Tim immediately knew that to provide a quote at this stage would not be in the best interest of the customer. What they needed was an engineer who could analyze their current operation and create an ideal layout that worked with their business model and fabrication flow. At the risk of losing the opportunity to bid, Tim politely guided the customer away from seeking electrical bids and suggested they first hire an engineer.
"I've done several plant moves in my career," says Tim. "Oftentimes, the opportunities for efficiencies go unnoticed. You only get one shot to avoid standing back when a move is over and saying, 'I wish I would have thought of that before we moved our machines.'"
"...You only get one shot to avoid standing back when a move is over and saying, 'I wish I would have thought of that before we moved our machines.'" -- Tim Hagen
Several months passed before Tim received a call from an engineer who'd been contracted to manage the Metalspun move. Tim's advice had been taken. The engineer had spent a month and a half on-site learning the business and the workflow. The company was finally ready to accept bids, but this time Lemberg was up against two other companies.
Results
Lemberg's bid was thorough. Tim was careful to include the current needs of the company as well as anticipate company's future growth demands.
After meeting again with the customer, Tim was confident that the solution he had proposed would be best for Metalspun, especially with the newly engineered layout. But, he feared that after this initial, careful engineering of the new plant's workflow, Metalspun might under-hire the electrical work, causing this final phase of the plant move to fall short. His quote eventually won the customer not for the initial price, but for the comprehensive attention to details.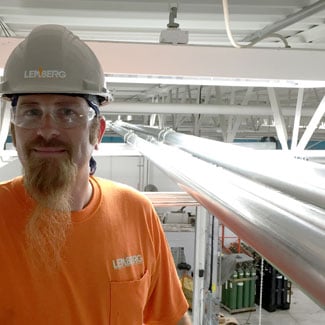 To be sure the bid plan was successful, Tim handpicked an electrical crew under Brandon Gagliano, an experienced foreman who recently completed another plant move.
Impact
The team's experience was key to the success of this project and in Lemberg's relationship the customer. Having the foresight to identify the actual needs and the courage to explain this to the customer, Tim and his crew helped Metalspun anticipate the space demands of their own growth.
Metalspun's electrical work was designed to allow the company to grow with ease and transition its workflow over time with controlled expense.