Engineered Framework Allows For Continuation Of Construction & Business For Rexnord Highfield
Background and Goals
Highfield Manufacturing, a division of Rexnord, is a leading global producer of high-quality security systems for the electric, gas and water utility industries. Lemberg was contacted to assist Rexnord Highfield and contractor representatives in developing a solution that would allow construction work located between two active manufacturing lines to continue without disrupting employee productivity.
In addition to the construction solution needed, safety procedures were an essential component that would allow continued production within the plant.
Strategy
A Lemberg project manager worked closely with the owner to lean on previous experience obtained from similar projects. Considerations included internal traffic flow for pedestrians and forklifts. Developing a safety plan for the project was a priority because of the location of the project site and the proximity to workers and equipment traffic flow.
It was determined that an engineered steel lattice framework would allow the installation of all electrical power drops and distribution installation without interfering with the areas surrounding the new division under construction.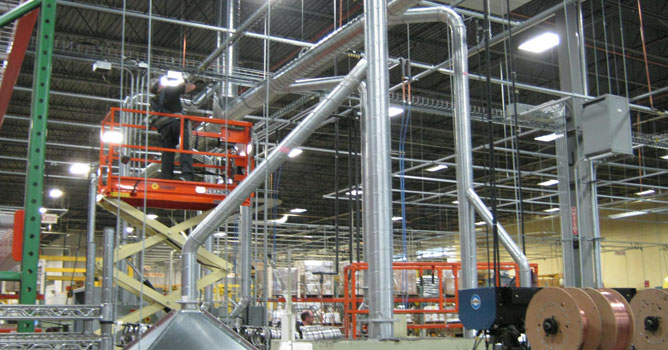 Results
The decision to install the engineered steel lattice framework at a lower elevation helped save on installation costs of wiring from a higher structural ceiling. Pre-manufacturing sections required limited time for onsite installation and the work to bring new power to the steel lattice was completed with few interruptions.
Defining clear work areas with building management allowed for a safe environment for traffic flow. Managing the project deadlines closely with Rexnord Highfield representatives allowed for timeline efficiencies and their ability to move equipment to the site prior to completion.
Impact
Rexnord Highfield was not only happy with the functionality of the final solution, but also the aesthetic look of the structure. Those involved with the project found that addressing the safety plan and routing traffic ahead of time made employees more accepting of the project interference. In addition, prefabrication of the hanging structure allowed larger areas of the floor space to be available sooner – resulting in less downtime for Rexnord Highfield.