Lemberg offers an Economic Electrical Panel Solution for River's Edge Condominiums
Background and Goals
River's Edge condominiums house many families and individuals in the city of Brown Deer. Recent fires throughout the complex have brought awareness to the project managers. The safety record of their old electrical panels has also made them consider their need for new equipment.
Lemberg assisted in educating the complex association members about this issue and what they could do to upgrade their old electrical panels that are now obsolete.
Strategy
The challenge for Lemberg was discovering a solution that would not only offer a solid replacement for the outdated panels, but one that was cost-effective. The initial requirement was to ensure that the new panels were the proper fit in terms of size measurement, as this would determine the type of panel that would be installed. Lemberg visited each condominium to verify the breaker count and amperages in preparation for the new installation. It was then determined that a Square D panel capable of using tandem breakers for space restrictions would be the best solution. In order to implement the project, the permit and material procurement was completed prior to installation. Lemberg proposed a timeline of two months for the new installations.
Results
Space restrictions only allowed for a very small panel with up to 16 circuits. After contemplating multiple brand options, the Square D QO816L100DF was the chosen tandem breaker for the job. Aside from the new breaker being well-respected and readily available, it also offered both 120-volt and 240-volt single phase power. In addition, there was the ability to have one 2-pole breaker and 12 single-pole breakers in one panel.
The breaker was cost-effective and required very minimal drywall removal which made for very few, minor repairs as the installation was completed. Lemberg technicians were able to execute the installation with very low impact to the tenant and within their estimated timeline.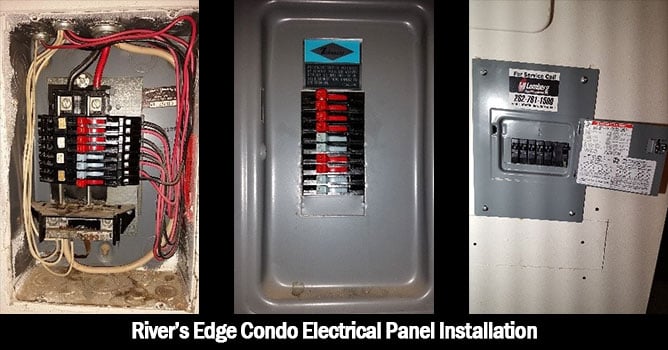 Impact
Lemberg coordinated around the tenants' work schedules and worked within their budgets to offer the best customer-satisfaction possible. Even prior to beginning the installation, permit inspections were scheduled directly between the customer and the inspector to move the project along at the tenants' convenience. The efficiency was an additional factor in making this project a success – only two technicians were used for all 64 units. Lemberg developed a strategic system in the shop to stay well-organized; all of the equipment and material were labeled so that nothing went to the wrong job.
Overall, the new panels eliminate the high failure rate of the previous panels. River's Edge Condominium Association has been a longtime customer of Lemberg's, so it was very important to keep them involved while executing the installation. Lemberg provided progress updates to the Association over the course of the estimated timeline. Any questions or concerns could be answered right away which the River's Edge Association noted was a major plus – there were no surprises and they felt in the loop for the entire project.