Upgraded Exterior Lighting Helps Ernst & Young Get Noticed
Background and Goals
Ernst & Young is a global, integrated professional services organization with a prominent office location in downtown Milwaukee. Operations representatives from Ernst & Young contacted Lemberg because they were experiencing numerous issues with the illuminated signage located on top of their building. Issues included dimly lit lettering, the illumination source (neon) often failed, energy consumption was high and repair/maintenance bills were costly.
Ultimately, the issues experienced caused a weak representation of the Ernst & Young brand in a highly visible location.
Strategy
In the case of the Ernst & Young illuminated sign, channel lettering was installed when neon lighting was the only option, or most likely, the cost effective option. Recently, improvements in technology have made LEDs the most valuable, visible and energy efficient option.
Lemberg technicians were asked to provide recommendations for the most current sign technology. Working with a trusted vendor, it was determined that the best solution would be to retrofit the existing neon structure with an LED solution that uses a fraction of the electricity, and requires much less maintenance. This strategy allowed installers to use the existing signage structure that was already in place.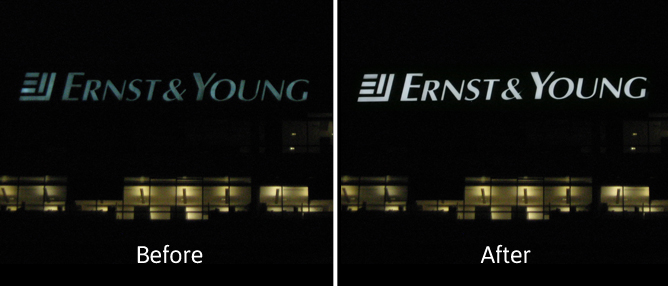 Results
By changing out the old lighting source from neon to LED, the letters of the Ernst & Young illuminated sign were brightened and now more visible to passerby traffic. Additionally, the cost to update the sign was minimal considering what the cost would have been to replace it entirely. Maintenance costs were reduced to zero dollars and Ernst & Young will see a return on their investment in less than 4 years.
Impact
As a simple process that helps businesses stay optimally represented for a fraction of the cost for neon illumination, LEDs create an incredible impact in the following ways:
Use approximately 15% of the electricity of neon
LEDs are a low voltage system
Reduce energy costs up to 94%
Offer a long lifespan – 50,000 hrs (conservative estimate equal to 11 years of nighttime use)
Require less service and maintenance costs
Reduce insurance risk with low fire and shock hazards
Improve performance in cold weather
Fewer primary electrical circuits required
LED retrofitting is a value-added service that offers businesses like Ernst & Young a cost-effective, energy efficient solution that essentially requires no signage down time.