Marquette University Gains Visibility with LED Replacement Signage
Background and Goals
Marquette University is a respected Jesuit private institution of higher education located in the heart of Milwaukee, Wisconsin. Known for high quality academics, socially conscious students, and a competitive athletics programs, the University is part of Milwaukee's culture and skyline especially along the area known locally as the "Marquette Interchange."
Marquette is situated at the intersection of Interstates 94, 43 and 794 – all major thoroughfares in downtown Milwaukee. Facing this interchange, at the top of Marquette's 20-story Straz Tower, was an aging neon sign that had become difficult to see from the roadways and costly to maintenance given the height and location of the building.
The decision was made to find a solution that had better visibility and was easier to maintain in this location.
Strategy
Marquette met with Lemberg's sign and lighting division team to examine images of the current signage illuminated against Milwaukee's night skyline at various times of the evening and in different seasons. Extensive surveys were taken to measure the existing signage, a process that took about two months.
Several options were presented including complete sign replacement. The teams opted for replacing the older neon lights with newer and brighter LED lights, a proven solution for other Lemberg clients.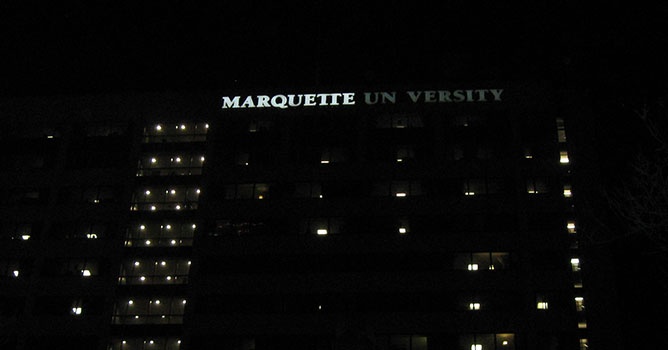 Results
The results of the replacements were stunning. Lemberg's experienced team of installers used a swing stage, which allowed them to safely access the sign via the top of the building. The neon lighting was efficiently replaced with newer LED technology. Lemberg's experience allowed the team to avoid issues presented by the sign location and manage the replacement in a time frame that was shorter than originally estimated.
Impact
The efficiently installed, brighter signage raised the visibility for Marquette University within the busy interchange. The long life of LED technology extends the maintenance schedule providing a cost savings to facility management on lighting replacements and labor over the life of the new lights.
The University was impressed with the results of this project and scheduled similar replacements across campus, partnering once again with the Lemberg sign and lighting team. The project gained local notoriety as well, becoming the subject of a Milwaukee Journal Sentinel report following installation.