Pettit Ice Center Meets Olympic Requirements with Electronic Message Center
Background and Goals
The Pettit Ice Center is an official U.S. Olympic Training facility located just outside of Milwaukee, Wisconsin along the east-west corridor of Interstate-94. Built in 1992, the facility spans 200,000 square feet and houses two international-size hockey rinks, speed skating oval, 443 meter, three lane track and seating for over 2500. It attracts coaches and Olympic hopefuls in long- and short-track speed skating as well as local hockey and figure skating programs. The Center is the only Olympic training facility in the nation that is at sea level, making it a desirable location for athletes training for the 2018 Olympic Games in South Korea, also at sea level.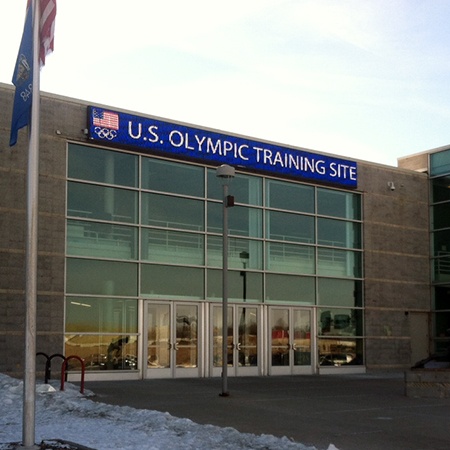 The officials at the Center were challenged, as a non-profit with high national and local visibility, to find a solution for the Center's failing outdoor neon signage that had been in place for over 20 years. Pettit Ice Center officials consulted with Lemberg's experienced team of sign professionals to determine the best approach to repairing and maintaining the identity of the Center while updating the Olympic logo to reflect new Olympic branding specifications.
Strategy
Lemberg's team examined the existing channel letters to determine the feasibility of updating versus replacing the signage. It was concluded that there was a significant amount of change in electrical sign technology to warrant a complete replacement. The team recommended that the existing channel letters be replaced with new, longer-lasting and more energy efficient LED letters and that an electronic message center be added to serve the Center's marketing needs.
After further review, the Center opted to not replace the traditional illuminated channel letters and Olympic Logo and instead sought out newer technology that offered building identification as well as versatility in messaging. A new 4-foot by 32-foot, full color Electronic Message Center (EMC)was placed directly above the main entrance.
Results
The EMC solution allows Pettit Ice Center officials to change messages and graphics to accommodate daily events. It also meets the Olympic committee's specifications to have the Olympic name and logo prominently displayed on the building, identifying the building as a designated U.S. Olympic training facility.
Impact
The Pettit Ice Center is now equipped with a bright and versatile electronic marquee messaging tool that serves its branding needs as well as its promotional needs. The EMC has improved visibility from a distance compared to the old lettering, creating advertising opportunities for the Center, which is visible to drivers along the interstate.