Creative Problem Solving Results in Cost Effective Visibility
Background and Goals
Smart Choice MRI was founded in 2006 as the first MRI center in the country built around offering high quality MRI scans for a fair transparent price. Smart Choice MRI utilizes state-of-the-art GE technology and all scans are interpreted by sub-specialty, board-certified radiologists at the Cleveland Clinic. The price is always $600 or less, which is thousands less than the hospital price.
In the beginning of 2016, Smart Choice MRI underwent a rebrand changing the overall look, feel and tone of the brand. A new logo design was a key element of this rebrand, and it had to be translated to new signage for all of their clinics. The challenge was to replicate the logo to create impactful signage.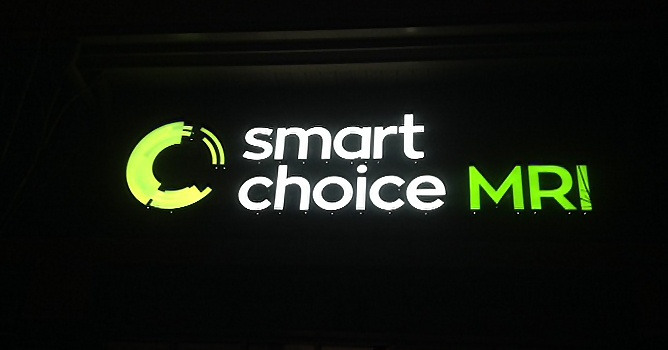 Strategy
Putting their combined talent and experience to the test, Lemberg's sign and lighting division devised a signage solution that met the parameters of Smart Choice MRI and its marketing team.
Smart Choice MRI had requested that the new sign design include stainless steel. The print-focused logo was possible to recreate as a sign, but the design of the logo and the addition of stainless steel options made it a challenge from a cost-effectiveness point of view.
The Lemberg design team took a hard look at the logo lettering, the manufacturing process and the possible materials to find the look and price-point they were going for.
Results
The team reworked the overall sign so it could be constructed in three pieces, simplifying it from the original five-piece signage. They chose to use brushed aluminum returns and end caps to give the look of stainless steel at a fraction of the cost. Then they took a look at the logo itself. By broadening the outline – or stroke – around the letters in the logo, altering it just enough in the signage to improve the visible impact and provide a winning design.
Impact
Though slightly more complicated to manufacture, Lemberg was able to work within the Smart Choice MRI budget, keeping the cost to produce the new sign nearly equivalent to the previous signage through alternative materials and an easier-to-install design. A seemingly simple solution, the broadened stroke surrounding the letters in the logo gave the design team the ability to play with the lighting, resulting in a solution that improved the sign's overall visibility.
With a comprehensive and creative approach to the customer's challenge, Lemberg's design team provided a cost-effective solution with better visibility for all Smart Choice MRI locations.