Taco Bell signage installed on timedespite adverse job site and weather conditions
Background and Goals
Founded in 1962, the Taco Bell franchise has become a fast food staple in nearly every metropolitan area in America. With a "brand soul" that rests the Taco Bell brand on the "feed people's lives with mas," the company seeks to operate with positivity, passion and creativity, with affordable pricing and menu options that appeal to a younger audience.As the franchise grows, it continuously tweaks its brand to fit the changing target.
When officials opened a 4th store in the Milwaukee market, this one near the Marquette University campus, they were met with the challenge of installing the brand signage in a tight urban location with limited space for installation equipment. As they had for three previous locations, D.A. Bentley, Taco Bell franchise management, contacted Lemberg's Sign and Lighting division to install the new brand signage.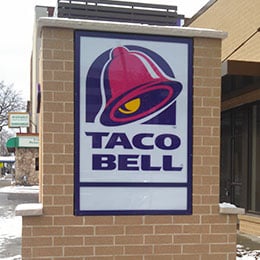 Strategy
Working with D.A. Bentley, Lemberg's team studied the installation challenges. The urban location was already beyond capacity in working space during the installation time frame with other trades on and near the restaurant location. The team considered ways to position crane trucks and personnel for the installation.
Additionally, as the installation date approached, inclement weather and other contractor-related issues delayed the entire Taco Bell construction site by 10 days. Understanding the nature of the job, the team chose to send installation crew members that had worked on the previous Taco Bell sign installations in order to provide a familiarity with the company, its procedures, the sign product, and the expectations.
Results
Since space was limited, the Lemberg installation team wasn't able to keep the standard equipment trailer on-site, a practice that normally keeps the materials handling costs to a minimum. To compensate, the team proactively organized to bring only the equipment that was needed for a one-day period, leaning upon the experience of the crew members for that organization and proactivity.
Impact
In spite the compressed job site and stalled project time line, the Taco Bell signage at this downtown location was completed on time and within the budget. Signage at additional Taco Bell locations in the region was installed by the Lemberg team as a result of the success of this project.