Lemberg Promotes Tom Lehn to Operations Manager for Signs and Lighting
Brookfield, WI (June 6, 2019) – Lemberg Signs and Lighting is pleased to announce the promotion of Tom Lehn to Operations Manager. Lehn is now responsible for the operations and manpower needs of the sign and lighting division at Lemberg, overseeing and fulfilling the needs of sign installation field crews.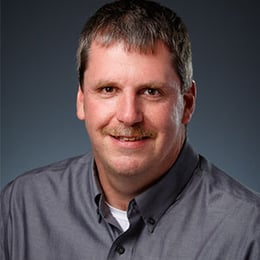 "Tom has been played such an important part of the growth of the business over the past few years," said John Wachniak, Sign and Lighting Division Manager. "His dedication, leadership style and proactive approach have become evident to all of us. This promotion is well deserved."
Lehn joined Lemberg in 2017 as installation manager, bringing 21 years of sign industry experience with him. His background includes both field work and management. Lehn has associate degrees in Industrial Screen Printing from Moraine Park Technical College and Printing and Publishing from Milwaukee Area Technical College. He has worked with clients at local, regional and national levels such as Starbucks, Panera Bread, Potawatomi, Fiserv, the Milwaukee Brewers and the Milwaukee Admirals. His expertise includes business operations management, safe work practices and overall customer experience.
Lemberg's Signs and Lighting division is an award-winning and growing provider of business sign design, fabrication and installation in southeastern Wisconsin. The division of is responsible for creating brand, wayfinding and advertising signage at the local, regional and national levels. The team is led by John Wachniak. Find out more about this division of Lemberg Electric at www.lembergelectric.com/signs.
---
Lemberg Electric Company, Inc., was founded in 1928 in Milwaukee and serves the southeastern Wisconsin business community in electrical service, sign design and installation, data communications, energy management and electrical construction. The company is located in Brookfield, Wisconsin. Visit us at www.lembergelectric.com and find us on Facebook, LinkedIn, Google and Instagram.
####