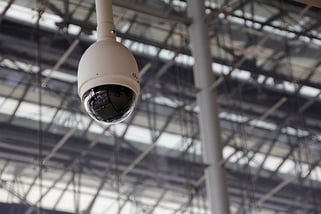 At first exploration, it may seem easy to save capital and take on the installation of a security system cabling and components. In fact, equipment is readily available at most hardware stores and comes with relatively easy-to-follow instructions.
However, when it comes to the business that you have worked so hard to build, keeping your assets safe and secure should be a top priority.
Your security system should put your mind at ease, not raise questions about reliability at the present time or as your business continues to grow and thrive.
Installation by a professional team brings years of experience, equipment, infrastructure familiarity, and estimates that are expertly formulated to work within your budget without any surprise fees. Additionally, this dedicated team will answer your questions and provide long-term support to keep your equipment running.
In addition to ensuring the reliability of your system, Lemberg technicians can install and manage all of your data, communication, and electrical needs. That includes updates to your surveillance technology as well as access control systems and alarm monitoring.
With a holistic approach and thorough review of your data communications baseline, they'll make sure your infrastructure is operating safely with the right supporting equipment before, during, and after installation. The safety and security of your business are critical.
Let's look at the importance of proper installation and how you can find credible installers to achieve the right security solution for your business.
1. What can go wrong with a security system installation?
Once you've identified your business' security needs and the appropriate security system features to address those concerns, the last thing you want to worry about is an unreliable infrastructure. For example, improper wiring can cause cabling problems and misplaced hardware can leave areas of high-risk unmonitored.That certainly does not help to ease your concerns or keep your business safe.
Poor security system installations can result in:
Unexpected installation costs
Incompatible devices
Problems with connectivity and your command center setup
Post installation, non-warranty maintenance fees
Continued or unresolved security problems
2. Why hiring credible installers matters
Expert, professional teams will be able to provide a security system plan that is efficient, meets your security needs, and is installed with the right supporting hardware for a long-lasting system that works.
Lemberg installations include warranty and maintenance through testing and certification of your data cabling systems as well as CAD drawings of floor plans, device details, and labeling. We help you build a system that sustains integrated automated systems for HVAC and lighting controls. We will help your facilities managers and IT teams build a proactive infrastructure for future growth and smart buildings.
The complexity of data communications work - tapping into the existing infrastructure and cable system, as well as working with previously installed equipment - requires professional knowledge for a seamless installation. The field of low-voltage cabling is regulated to the highest safety standards by the Occupational Safety and Health Administration (OSHA) and the National Fire Protection Agency (NFPA) and the National Electrical Code (NEC).
Low-voltage cabling carries a lower amperage than electrical standards, however, it is still dangerous and can be deadly. According to a NFPA reporting from 2012-2016, an estimated 9,760 workers in the U.S. were injured in non-fatal incidents through exposure to electricity and 80% of fatal injuries with direct exposure to electricity occurred while workers were involved with construction, repairs, or cleaning activities.
Working with reputable, specially-trained professionals will ensure the risk of on-the-job injuries such as burns, falls, electrical shock, arcing, and trauma is significantly reduced. Supported by a full-time Safety Director, Lemberg can assess an environment, identify hazards and take safety action early.
Benefits of a professionally installed system:
Efficient, low-voltage electrical solutions
Reduced risk of injury
Familiarity with different device packages and compatibility
Reliability and 24/7 support
Proactive placement and planning for your future cabling needs
Supported Network
Your security system may be comprised of various elements - cameras, audio systems, lighting, and motion sensors, to name a few. But, all the equipment in the world isn't going to help without a strong infrastructure to support it.
The correct cable and expert installation make a big difference. High-quality cable allows for increased bandwidth and scalability with more reliable data transmissions, driving security within your network ecosystem.
A professional team will ensure that your structured cable category rating meets your business and IT infrastructure requirements.
Lemberg uses the newest structured (Cat 6A) and multimode (fiber optic) cabling to meet higher security requirements for data center infrastructures. This gives you fast, uninterrupted network operation and in turn, a robust and reliable system that you can count on. Our technicians are installation and programming certified for Axis, Hubbell, Siemon, Panduit, and BICSI solutions.
Professional Teams
There are dozens of options for installing your security system, most of which fall within the categories of a DIY or professional installation.
No matter the size of your business, a professional installation will give you peace of mind with a well-installed system that properly addresses your needs. Security systems don't need to be costly to be effective, but the right installation makes a world of difference.
Questions to ask when hiring a professional installation team:
Does the installation include a review of your current wiring system?
Has the team installed systems on businesses of your size?
What kind of training and certifications do team members have? Are they OSHA 30 certified?
How familiar is the team with custom solutions?
What do installation estimates include?
What are the warranty options?
3. What kind of support should you receive during and after installation?
Your system is installed and now you are all set. Right? Not really. Your security infrastructure is a living system that requires maintenance and periodic review. As your security needs and business safety plan change, you'll need to accommodate new or mitigated risks with an updated system.
Before you hire a professional installer, make sure to ask questions about the kind of support you'll receive both during the installation and after. The last thing you want to do is have to call in another company midway through a project or after it's concluded.
You'll benefit from a long-term relationship with your cabling contractor. A long-term provide of services will be familiar with your business, your equipment, your security needs, and your infrastructure. In the low-voltage world, familiarity and neatness count. Proper initial planning, installation and labeling will make maintenance, updates and expansions quicker, easier, and less costly.
Depending on the project, a 1-2 year warranty is standard at Lemberg. We'll review your infrastructure before, during, and after installation. Also, we provide 24-hour emergency service and a data team to resolve issues quickly and answer all your questions.
As a business owner, we want you to feel comfortable and familiar with the system we have installed. To ensure that your equipment is in top-notch working condition, our team performs preventative maintenance to catch any developing issues before they become a security risk for your business, employees, and customers.
Finding the right security solution for your business
The right cabling and components for your business security system will protect your business assets and provide a safe environment for staff and customers. Making sure that your equipment is installed properly with the appropriate wiring support and good placement is crucial.
A professional full-service team will be able to give you the best possible package within your budget to address your security threats and also support you after installation.
Security, however, goes beyond equipment and needs to be part of your company culture. Keep safety and security on your team's mind by regularly discussing potential threats, privacy concerns, and the company's policies.
We created a checklist to help you get the conversation started and keep your security practices current at all times.
If your company is looking for a data communication solution for safety and security, that fits your specific needs, connect with Lemberg today or request a quote. We work to achieve your vision within your budget to keep your business and employees secure.