Lemberg is Your Trusted Milwaukee Commercial Sign Company
A customized commercial sign is a great way to expand your market reach and represent your brand. The first step to ensuring you get the most out of your business signage is choosing a sign company you trust with industry-leading experience.
Lemberg is proud to be your local Milwaukee commercial sign company, providing innovative signage solutions that fit any business's unique needs and brand.
From customized design assistance and creation to sign installation and maintenance, we are your one-stop, full-service commercial sign company. Our team has the experience needed to design, create, and install the best eye-catching commercial sign that will leave a lasting impression on your current and potential customers.
The Best Commercial Signage For Your Business
Lemberg is your reliable and experienced sign company, working with you every step of the way to make your vision a reality. Our award-winning designers can work with your existing logo or help you create something distinctly new.
Specializing in backlit, illuminated, and non-illuminated exterior and interior signs, our team will lead your project with a consultative approach to design, manufacturing, installation, and maintenance.
We believe in strong, collaborative partnerships with our customers, and we'll take the time to listen to your thoughts and needs before creating the best commercial sign for your business.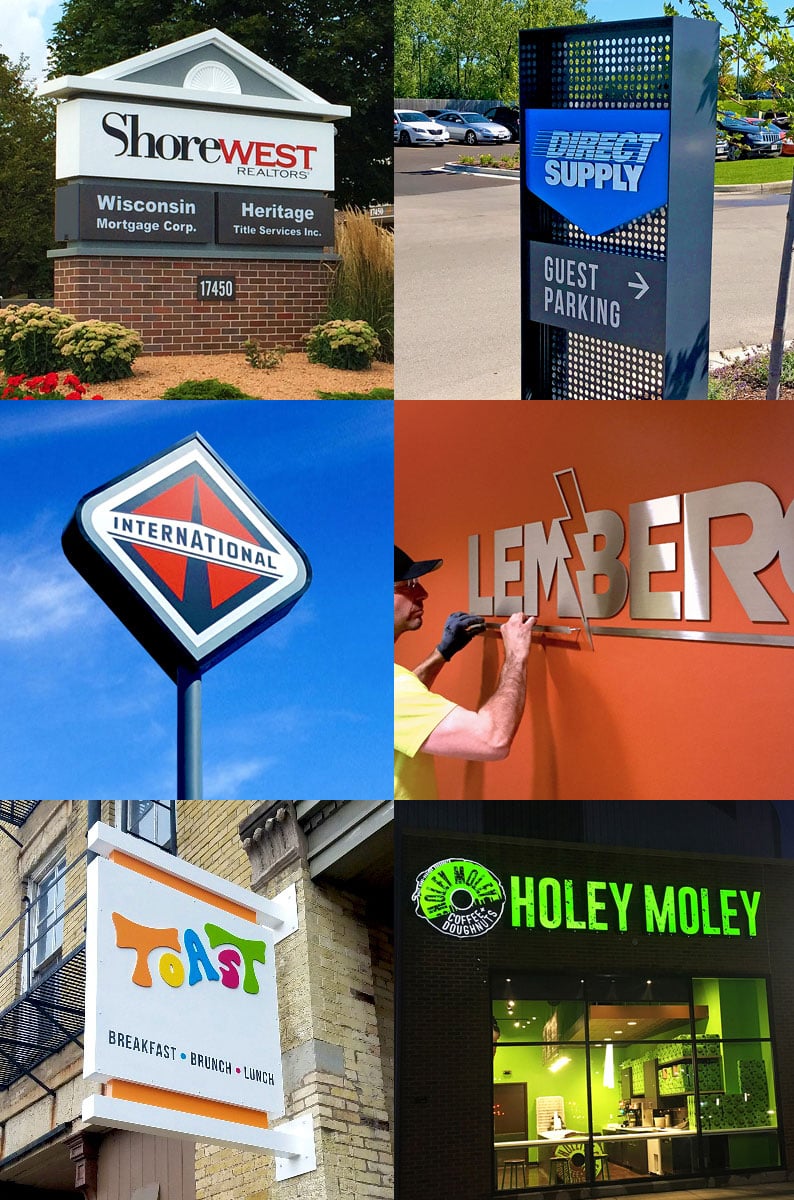 Types of Commercial Signs
At Lemberg, we place commercial signs into two categories: primary signage and secondary signage.
Understanding the different types of commercial signs that fall under these two categories is the first step to creating the custom sign that will best fit your brand, make the most of your location, and get you the greatest visibility.
During our consultation process, we take note of the goals and outcomes you wish to achieve with your commercial signage. From there, we will work as a team to design and execute the best type of commercial sign to reach these goals.
Commercial Sign Installation, Lighting, and Maintenance
Lemberg is a sign installation company built on a foundation of safety, trust, and quality. From design to installation and beyond, we are your trusted partner for the lifespan of your commercial sign. Through our customized sign and lighting maintenance plan, we are happy to offer scheduled maintenance visits that include repairs to backlit outdoor business signs, digital signs, LED retrofits, and more.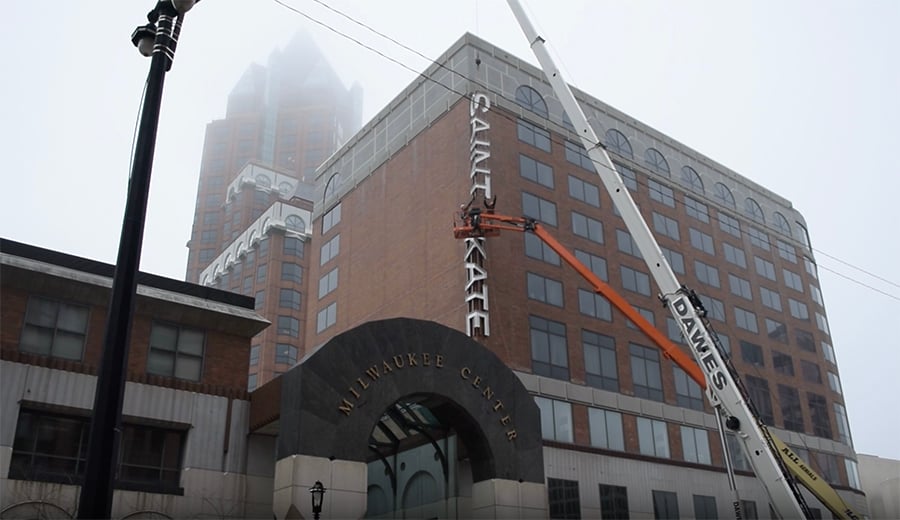 Our Commercial Sign Projects
Need some inspiration on what custom signage can be created for your commercial business? View some of our recent projects in our gallery below or browse our sign projects by industry.
"Lemberg recently installed our large exterior sign and monument sign. Both installations look great. There was a small mix-up with the monument sign, but Lemberg communicated well and fixed the issue quickly."

Jonathan
Hunger Task Force
"We are a longtime customer of Lemberg. We have used them for interior signage, exterior signage, and exterior lighting. They do a great job on everything from design and installation to service. We get many compliments on their work, especially the new sign at our Corporate Office in Brookfield."

Executive
Shorewest Realtors ®
"Lemberg came highly recommended by Mark. From the first meeting through all the changes and modifications, Lemberg was professional, timely in their response and helpful."

"I enjoyed the quality service I received from sales to installation. Skip, Zach, and the install team were all very friendly, easy to work with and timely in their responsiveness. I love the design and high-quality look of my sign and am very happy with the final product. Thank you so much!"

Linda
Inner Wisdom & Wellness, LLC
"The install was outstanding ... removed the old and installed the new in less than 4 hours. And the next day we were training and getting new content up and running on our new sign! So I can't thank the whole Lemberg team enough -- from trenching two newlines to the sign, to the physical removal and install to the final software training and commissioning of our electronic LED sign."

Gary
Emmanuel Community United Methodist Church
"Zach W. and Brian P. performed as expected -- proactive, professional and outstanding service ... I provided them with opportunity to show a new customer their capabilities and they performed without a doubt. It should be easy and it was."

Jason
Nicolas and Associates
"Zach, thank you so much! [The sign] is really attractive and soooo noticeable ... You can't miss it. Thanks to you and your team for a great creation to use to inform and welcome people to St. Paul's."

Pat
St. Paul's Lutheran Church
"I finally had the opportunity to see the new sign at night. I just wanted to let you know how pleased I am with the look and craftsmanship of the new sign. Thanks much!"

"Every person from Lemberg that I interacted with was really helpful, customer focused, and did a fabulous job to get our sign done in a timely and efficient manner. The team that installed was really great, noticed a potential hazard for us, and recommended how they could help fix it. And they fixed it on their next visit. They were very helpful, professional and easy to work with. Thank you."

Leanne
The Hock Group, LLC
"We had a great experience overall! We needed to replace a large sign on our property as soon as possible. Lemberg was able to act fast and install once the weather permitted ... We chose Lemberg because of the expertise and ability to accomplish our large project. Additionally, Lemberg gave us the best value/quote for the product."

Ellie
Colder's Furniture, Appliance, and Mattress
"From front-end sales & customer support through project management, art department and final install, the Lemberg team was responsive, friendly/professional, and a joy to work with. Change nothing...you have things dialed in!"

"Your guys are always respectful and do a fantastic job."

"The process was smooth! Great communication and partnership."

Tom
Waukesha North High School
"Reggie is fantastic!! So professional and a great communicator. She made it all so easy and a great experience for all!"

"The Lemberg team was very timely with their communications and project completion both from a sales and project management perspective. The drawings and renditions were very helpful to understand true sizing of our sign and looked identical to the finished product. The installation crew was very professional -- we are very pleased with the final product! We strongly recommend Lemberg and will be sure to work with them again on future projects."

Manager
Commercial Customer
"Very good at communicating with us on how the project was coming along."

"Everything ran smooth. The sign looks great. Thank you!"

"What an amazing group of quality employees who clearly value their team and pay close attention to their customers' needs and are on top of their game. I couldn't have been more pleased with the finished product and the effort that went through from the beginning to the end of this project ... I'd like to give a shout out to Reggie! She was attentive and ... went above and beyond to give us gorgeous signs."

Lorena
Lake Country Cards
"I felt as though Lemberg was a true partner to my company in meeting our client's deadlines. The project managers and others on their staff were very responsive and provided solid technical expertise when needed. The reimage project required a high degree of planning and coordination which they capably provided and more. I truly valued the time spent working with Lemberg and appreciate all the effort they put into the project."

Your commercial sign is a powerful tool for both visibility and brand recognition, completing the customer experience and leaving a lasting impression. From custom-designed signs to professional project management and installation, we're happy to be your trusted sign company in Milwaukee and southeastern Wisconsin.
Call us at (262) 781-1500 or complete an information request form online to get started on your new business signage.