Digital Signage, Electronic Messaging
Electronic Message Centers, or Electronic Message Units, are popular, effective advertising tools for businesses of all kinds. With a wide variety of features like user-friendly programming, remote access, clear resolution, and 3D graphic and animation capabilities, the Electronic Message Center signs (EMC) are today's choice for digital advertising.
The Marketing Power of Digital Signage
Integrating an EMC into your marketing strategy allows you a "wow" factor that is cost-effective, easy-to-use and immediate. You'll reduce your overall advertising budget while expanding your reach, building awareness for your brand, and increasing impulse purchases and foot traffic. At just 15 cents per thousand impressions, an EMC will give you some of your highest advertising return on investment. Consider digital signage for
Exterior Signs
Point-of-purchase Displays
Lobby areas and Wall Displays
Restaurant Menus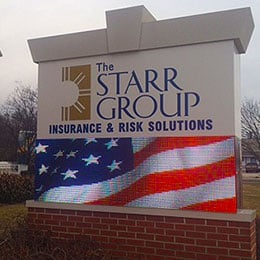 For Every Business and Every Location
Electronic Message Centers can be integrated into new or existing signage and come in a variety of resolutions to fit your budget, your location and your message. From basic gray scale time/temperature units to high resolution, full-color video-ready units, you'll find the right combination to fit your brand.
Lemberg's sign and lighting professionals will consider viewing distance, angle, and setbacks when making recommendations and designing your sign for optimum impact. With turnkey services from our five divisions, we have the expertise to get your new EMC up and running quickly whether you need Ethernet, fiber optic, wireless or broadband connection.
A Flexible and Simple Solution
We know the last thing you need is to have to navigate a complicated message system. Our EMCs come with intuitive, user-friendly software that accepts multiple file formats, comes with an animation library, and can handle text, images and video messaging.
Tailor your message to react to inventory levels, weather-related customer needs, time of day and traffic patterns. Adjust the messaging as often as you like. EMCs are the most flexible form of advertising on the market for:
Retailers
Restaurants
Schools
Churches
Hospitals
Municipalities
Entertainment venues
LED Pitch and Pixels
Lemberg's EMC options are energy verified, listed and certified UL energy efficient. They are tested and built for ruggedness. Digital signage is made with LED bulbs, which burn brighter and last longer than other types of lighting. LEDs create crisp, bright, vibrant images and text.
The standard measurement for digital LED signage resolution is a "pixel," or the spacing of LED clusters. The higher the pixels, the higher the resolution. The appropriate resolution for your sign is dependent upon the location, speed of passers-by, and viewing distance -- both how far and how high. The closer the audience will be to the sign, the higher the resolution needed. Our product vendor, Watchfire signs, explains this well here.