Infrared IR Testing, Part of Your Electrical Preventive Maintenance
At Lemberg, we're committed to ensuring the integrity of your electrical systems and identifying problems before they create costly downtime or worse, a catastrophic incident.
Our electricians are certified to perform non-invasive, electrical preventive and predictive maintenance using state-of-the-art infrared testing for all areas of your business including:
Manufacturing equipment
Motors and bearings
Power systems
Indoor switch gear
Transformers
Electrical panels and circuit breakers
Infrared Electrical Thermography Uncovers Inefficiencies and Hazards
Infrared Electrical Thermography (IR) scanning technology detects heat generated by failing electrical equipment and poor craftsmanship. It can uncover cracks and defects in parts and materials. IR scanning can be used as a predictive and diagnostic tool to uncover inefficiencies and dangerous hazards in your electrical systems and mechanical equipment such as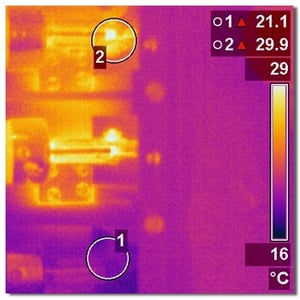 Poor or loose electrical connections
Defective electrical equipment and components
Overloaded conductors/circuits
Defective motor equipment
Imbalanced loads
IR Inspection Benefits
IR scanning of your systems and components can be part of a regular and ongoing preventive and predictive maintenance program. Benefits include:
Ensuring critical power system reliability
Reducing repair costs
Increasing the life of your electrical systems and components
Reducing environmental impact
Reducing unplanned downtime
Improving insurability
Improving system performance
Preventing catastrophic incidents
Correcting poor craftsmanship
What To Expect with Infrared Testing
Infrared (IR) testing of your equipment can provide valuable details about your equipment that can inform scheduled maintenance and replacement programs. Here is what you can expect from a professional scanning appointment.
Timing: Testing is done during open hours, with machinery operating at full capacity. This allows the scanner to evaluate equipment performance.
Safety: Our electricians will be wearing full arc flash safety suiting and protective gear. They will work with you to secure the area to protect your employees.
Service Panels: Service panel covers will be removed to expose electrical components and replaced when the scan is completed.
Scanning/Imagery: The scan will detect hot spots or defects. Our electricians will take both infrared and regular images of the equipment/components. The infrared images show the defective equipment and the level of urgency. The regular images allow technicians to understand the actual repairs needed. The images are evaluated by our team.
Reporting: Once the team has evaluated the scan, you will receive a full report along with recommendations to maximize your equipment life, lower your energy consumption, and avoid unplanned downtime.
General repairs
Replacing equipment with more energy efficient models
Preventive maintenance such as cleaning and tightening of connections
Regular maintenance schedule such as a quarterly maintenance visit to tighten connections, observe for wear and tear, schedule mechanical equipment replacements.
A quality electrical preventive maintenance program and corrective action will safeguard your business no matter what your budget.
To learn more about IR Scanning or other risk mitigation and efficiency services, please contact our Service and Energy Technology teams at (262) 781-1500 or request a quote today.