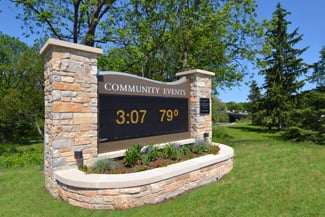 Whether you are launching a brand new location and need a new business sign or simply replacing the old sign for your business, several key factors must be addressed from conceptualization to installation. From the planning stages to final installation, every decision you make has the potential to affect your overall marketing strategy. Keep in mind these four considerations when choosing the location for an outdoor sign for your business.
Complement & Contrast with Buildings
There is a fine line between attractive and tacky and most business owners don't want the sign for their business to stick out like a sore thumb. If your business is in a strip center or adjacent to nearby buildings, your sign should complement those neighboring structures in addition to your own building. Consider the color of the building, the materials it's constructed from, and try to make your business sign an attractive part of the scenery without sacrificing the 'stand out' quality of your new advertisement.
Another consideration in regard to complementing and contrasting with buildings is that it is important to understand that many tenant properties file "master sign plans" with their respective municipality. These plans dictate sign material, size, color, and more. Their purpose is to adhere to property standards and achieve a streamlined look.
Size & Design of Your Business Sign
Branding your company is the primary goal of your business sign and you certainly want to send the right impression to potential customers. If your sign is too small, too large, or isn't visible to the right customer base, you'll only end up wasting money and see little reward for your investment. Design professionals will lend valuable expertise in regard to proper color combinations, material application, font choice and more to ensure the highest level of visibility and impact for your sign.
Municipal Restrictions and Permitting
If you plan to work with a professional sign company, they will ensure that your sign meets all local municipal guidelines and restrictions. Adhering to local ordinances can be tricky, but it's important to adhere to municipal code in regard to sign size, placement and lighting.
Mounting & Installation
Proper installation and mounting are possibly the most important aspects of sign placement. Safe mounting ensures that your customers will be safe and that your outdoor sign will be in place for a long time. Mounting signs properly is a job best left to the professionals, and there will likely be additional building codes to meet in this process.
With less than 10 seconds to capture the attention of a prospective customer, outdoor sign placement is critical to brand recognition for your place of business. Oftentimes factors like adherence to local ordinances and safety requirements work hand in hand with size and design to ensure the placement of a well designed, manufactured, and installed sign that is sure to drive business. Working with a sign company that understands all of these important factors will give you peace of mind and help you reach your goals.
What challenges have you faced when choosing a location for your outdoor business sign?