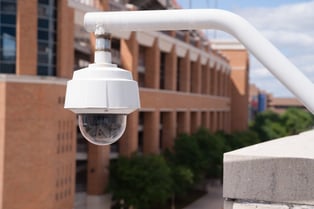 The security of educational institutions is extremely important in today's world. Each year about 38,000 criminal offenses are reported on U.S. campuses.
Every campus needs a modern security and control system to monitor the safety of buildings, residential areas, delivery zones, and more. Security and control systems support the safety of our nation's campuses, so students and everyone else on campus can focus on learning and feel secure.
With over 90 years of experience, Lemberg is a trusted advisor for educational institutions planning and installing latest safety and security technology. We recommend making the following seven focuses your top priority when putting data communication campus safety practices into place.
We should note that all of the following priorities are based on the use of smart buildings that can be integrated with many types of systems. The end goal is to create a robust set of solutions to support the safety and security of all students, staff, visitors, and data.
Download the Ultimate Guide to learn about the top tier safety and security measures.
1. Control Building Access Points
The first priority for promoting campus safety is to control access to buildings and determine the levels of access various groups will need. For example, a facilities manager needs different access from a teacher/professor, and a student needs yet another level of access.
Identify all groups of people who will need access to various areas of the campus and set policies for which zones they are allowed to enter. Monitor all actual day-to-day access and archive it so you can refer to it later as needed.
Building management systems (BMS) control access, integrate and monitor data from several environmental and access systems. This provides highly-detailed building intelligence, analytics, and control.
2. Secure Sign-in/Sign-out
Track who enters using a digital card-based access system. Maintain organized records and if possible, activate alerts that will trigger a notice to security staff when secure access is violated.
Ensure that your tracking system can monitor both who enters and who exits the building. Some systems register only entrances and not exits, which can be risky in terms of knowing who is in the building at any given time.
3. Intercom/Video Systems
In student housing areas, visitor areas, and delivery zones, add intercom and video systems to further create a layer of security. For example, instant voice/visual ID systems can allow delivery workers to pass through temporarily while still keeping the building safe.
4. Buzz-in and Keycard Systems
When you use a buzz-in and/or keycard system, each individual person who attempts to access a building is instantly checked for allowed access. This provides a higher level of safety.
Buzz-in systems require a second person who can visually check the identity of the person requesting access. Only then, when the person's identity is verified, will they open the door.
A keycard system requires personal credentials for access. This is commonly used in areas where there is no camera access, delivery doors, visitors' entrances, employee access, student access, housing, labs, and as part of student account systems for banking and purchases.
5. Installing Safety Features
Add safety features throughout campus that give students and all people on campus a feeling of security. These features allow people to instantly call for help in an emergency situation. They include things like:
Blue emergency phone boxes
Panic buttons
Alarm systems
Areas of rescue and refuge
These zones are tied to first responder teams like campus police and fire rescue. Their most common uses are in public safety, student safety, parking lots, streets, intruder alarms, and designated areas of rescue.
For example, at Tufts University, a combination of different types of panic buttons keep people safe in administrative buildings and inside residence halls. If someone presses the button, either a silent call will alert emergency responders, or a loud alarm will sound.
6. Magnetic and Time-Controlled Locking Doors
Another way to secure campus buildings is to use magnetic and time-controlled locking doors. This prevents leaving doors standing open and maintains tight control over access points.
Use these doors to set time periods within which certain groups are allowed access, like janitorial employees, students, visitors, cleaning crews, and so forth. Buildings stay locked when desired and human error is minimized.
Download the Ultimate Guide to learn about the best practices for Educational Institutes.
7. Training/Warranty Programs That Complement Features
We strongly advise any campus that uses building security and control to invest in training and warranty programs that complement the equipment and features they're using. This includes staying up-to-date with all necessary software upgrades.
Every system comes with an instruction manual, video, and personal instruction on its use. Technical support is also available for any questions that come up. Sign up for maintenance schedules and agreements, as well as the ability to ensure component availability well into the future.
If you're curious about how these systems work and would like to see one in action before investing, request a demonstration. You can see their operation in a test environment that allows you to observe functionality in a variety of scenarios.
Always make an informed purchase when it comes to advanced types of access and control systems. Don't assume that it will come built-in with certain features; always ask the provider to confirm. And never focus so much on the price that you miss out on security components that are vital to the safety of your students, faculty, and visitors.
Lemberg can help you create a comprehensive access and control system for your educational institution. No matter your needs or budget, we'll help you design a system to meet your campus' specific needs.
We provide system integration, including cameras, door access, alert systems, and so much more. Reach out to us today for a consultation and additional information: (262) 781-1500 or lembergelectric.com.