The word attractive, in relation to spatial design and appeal, took on a whole new meaning in 1972. Lemberg's increased operations that year drove the expansion from the first floor to the second and third.

The space was completely redesigned and redecorated, and the heating system was converted to electric baseboard from a gas boiler. Developments that were ones "upgrades" have now well surpassed the advancements that Lemberg made that year.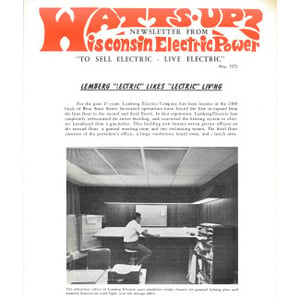 Lemberg's new updates were highlighted in the newsletter from Wisconsin Electric Power for its impressive design elements such as "distinctive wood paneling of various dark tones" and "acoustical tile and carpeting."
The newsletter also featured one of Lemberg's new offices on the front cover and described it as, "This attractive office at Lemberg Electric uses parabolic wedge louvers for general lighting plus wall mounted fluorescent work lights over the design table." Things sure have come a long way.
This anniversary memory was discovered in the same year that Lemberg expanded again, 2018 -- 46 years later. Just the same as at the previous location, the expansion added offices to the second level of the building – enough space to house the Estimating, Data and Marketing teams.
There is no sight of wood paneling or eclectic patterns, but the new second floor space nicely showcases Lemberg's modern, fresh design. And as the 1972 article mentions, "the efficiency of our personnel increased tremendously." The expansion to the second floor certainly was necessary.
The expansion, then and now, has brought new teams together and allows every employee their own office which, undoubtedly, has resulted in higher levels of production and rapport.