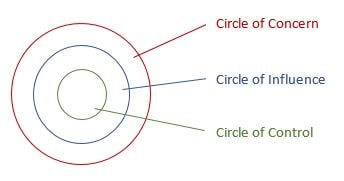 At work, we all have times when we get frustrated by what's going on around us. Our frustrations and concerns can negatively impact our workplace satisfaction and productivity.
Take Harry, for example. Harry is a leader I coach. He manages a six-person team.
Harry is struggling these days. He has three key concerns that have been coming up in our coaching conversations:
He has an open position on his team, but the organization (his boss and boss's boss) may be shifting the headcount to another area of need.
Harry is unclear about the objectives his boss wants him to achieve this year. He can't seem to get concrete definition or metrics from his boss.
Harry recently got feedback about his own leadership. Senior leaders in the organization don't see him having the "strategic vision" needed to move to the next level.
These concerns are causing frustration and unhappiness for Harry. They're valid concerns, yet as concerns, they're keeping Harry stuck. He's feeling like a victim.
But there is a way out....
Read More