Exactly WHAT IS Data Communications? According to businessdictionary.com, it is the high speed data exchange between computers and/or other electronic devices via cable or wireless.
Today, that means the design and engineering of cabling systems that affect your everyday world like cable TV, wireless garage door openers, cell phones and pagers, audio/visual and security systems, computer networking and internet, email and much more.
To illustrate, let's walk through a pre-datacom day.
Your Pre-DataCom Day
You wake up to your alarm and shuffle down to the kitchen for your morning cup of java. With one eye open and your fingers warming around your mug, you pass through the living room and switch on the TV. You turn it up loud so you can hear the nasal voice of the local news announcer in the bedroom while you dress. She's doing a horrible job. You wonder, when will there be a way to watch what you want, when you want it?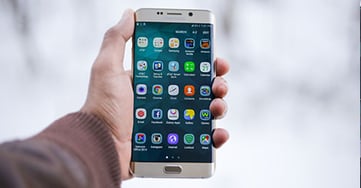 You leave home and curse the rain as you get out of your car to pull down your garage door. You think, wouldn't it be nice to close the door without getting wet?
Then, you spend about 30 additional minutes looking at your watch and pounding the steering wheel wishing you could call the office to alert them that you're stuck in a traffic jam.
Finally at work, you park, fumble to feed the meter with coins, and wait in line to sign in with old Hank at the security desk. You wonder about your security as you watch Pete from the third floor slip by Hank to the stairwell. You consider joining him but instead take the elevator. You stare up at the numbers in awkward silence with the not-pregnant woman who, earlier in the week, gave you the stink-eye after you had asked her due date. You think, a little background music might be good now.
You're greeted at the office by the receptionist who's frantic because you're late for a meeting with the CEO and 5 reps from a major client. You apologize, the rain, the traffic, Hank, yada yada. She grabs your wet coat and you take your briefcase into the meeting.
You pass out the 20-page booklets you were in until midnight preparing because you found a typo on page 14, and spend the next 45 minutes trying to keep the room awake through your black and white paper presentation.
After the client leaves, you slip off your jacket and begin to open correspondences that have been piling up in your inbox on the corner of your desk. You realize there's a request from a good client that you've overlooked. You grab your planner and pen and determine a date to work him in, but when you call, the line is busy. So, you pull out your mini-recorder and begin a response for your support staff to translate and type. The mail courier comes at one so there's still time to get it to the client before the end of the business day.
You take a breath, contemplate the morning and think, there has to be a better way.
What is data communications? It's the networked structure and technology behind cable, wireless, security systems, communication tools and more. It's an integral part of the way we live and work.
For more information on how Lemberg can help you live and work more safely, efficiently and conveniently, talk to a representative today, (414) 781-1500 or request a quote.