While locations around the world continue to invest in emergency communication solutions like blue light emergency towers and hands-free speakerphones to provide additional safety measures intended to bolster security, they also are discovering that the versatility of these devices provide an added bonus: improved customer experience.
And while a personal emergency – anything from a car that won't start to getting lost in a large campus setting – may not necessarily be life threatening, it does highlight the need for assistance aside from traditional police or 911 personnel. Many people prefer to talk directly with an individual who is on-site rather than be routed through a third-party service or forced to search through a labyrinth of hard-to-navigate websites, guides, brochures, etc. It can be far more efficient and clear – not to mention reassuring and comforting – to have direct contact with someone on-site who can easily answer questions and provide swift assistance. Blue light phones can guide visitors and customers to the preferred resource for their needs instead of having them automatically default to 911.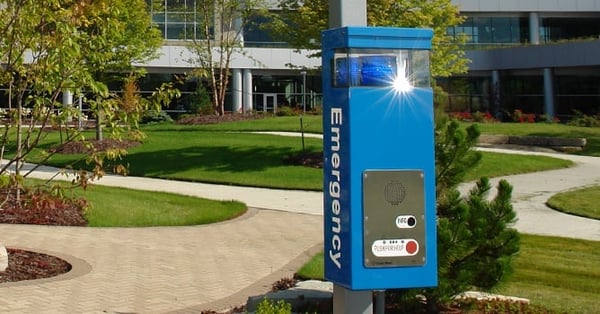 Still, the challenge lies in showing that these solutions will provide an increased level of customer service that also increases the return on their investment. Contacts like 911 and general 800 numbers are vital, but the ability to speak with someone directly on-site can be just as beneficial. Cell phones may be common these days, but there can still be hesitation or confusion about who to call in a large campus setting.
Simply installing visible security devices also can go a long way to enhancing the customer experience. According to a study published by the International Foundation for Protection Officers, the number one reason people shopped at one place over another was safety. Providing a visible security device can increase perceived safety for shoppers. As a result, on-site security should be seen as approachable and always present.
In fact, blue light towers and call boxes share advantages with other security measures, including:
Location: Advance knowledge of their placement provides instant information upon activation.
Durability: Constructed to resist the punishment of natural and man-made disasters.
Reliability: In addition to taking the element of human error out of the equation, phone service won't be jammed or lost due to high levels of traffic or storms.
Accessibility: Easy to operate and available for anyone to use at any time.
Deterrence: Their presence alone can cause individuals to think twice before committing a potential crime.
The life-saving potential of emergency communication solutions cannot be overstated. However, it is also important consider additional non-emergency applications for a two-way communication path when looking at the customer experience. Whether it's helping someone with a flat tire, giving visitors directions or responding to a malfunctioning gate in a parking lot, there are a bevy of scenarios that can be boosted by embracing the versatility of security communication products.
---
Please welcome Lemberg Guest Blogger, Michael Zuidema. Michael is the Marketing Operations Manager for Code Blue Corporation, which is based in Holland, Michigan. He joined Code Blue in 2013 after a 14-year career as a writer and copy editor for The Grand Rapids Press and MLive.