In the high-risk industry of construction, predictable outcomes are valuable. But inherent complexity and the human element create unpredictability and ambiguity. Some of the details are difficult to examine or maybe not visible at all. This is where Building Information Modeling (BIM) is proving to be very effective.
What was once a product that owners and trade contractors on a project could only visualize in two-dimensions is now being brought to life through Building Information Modeling. BIM is a process that captures real-world data and generates an interactive, intelligent 3D model of a building and infrastructure. One can "walk" through the future building in a 3D computer model.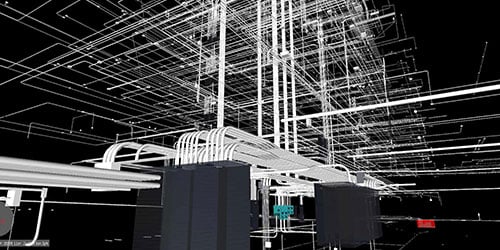 Who Uses Building Information Modeling?
Building Information Modeling offers architects, engineers, and construction management professionals a digital representation of a structure that reflects the life cycle of construction from conception through occupancy. It creates a collaborative space to manage documents, coordinate and simulate a project throughout the entire span of a project. Construction professionals can use design models within their own areas of expertise to ensure a smooth construction process for their customers. The models are used to communicate construction intent, examine design, define scopes-of-work, and inform logistics.
What is the Value of BIM?
Building Information Modeling displays the sequential development of a project, uncovering possible issues before they become problems. Referred to as 'clash detection,' this powerful feature allows BIM experts to navigate through a space virtually before any ground is broken and highlight overlaps and issues before they adversely affect a project timeline. Before BIM, clashes were discovered on a jobsite and may have taken weeks to solve. Today can be entirely avoided or rectified before the end of the workday.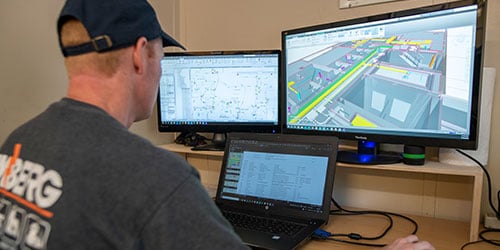 How can BIM affect a project timeline?
Building Information Modeling informs budgets and manages costs throughout a project. Contractors get a more exact estimate of materials needed and can utilize just-in-time delivery. They can identify opportunities for prefabrication, where pieces can be assembled offsite in a controlled environment and then delivered exactly when and where they are needed. This creates a clutter-free, safer workspace for all trades on the job.
BIM allows everyone to be well prepared and to proactively avoid potential issues. A project can move smoothly from beginning to end, with less congestion and greater safety. It provides contractors more effective communication of their plan to their customer which translates to a better customer experience.
Lemberg is equipped with BIM expertise to complete any project safer, more efficiently, on time and on budget. Learn more about the technology Lemberg uses during a project and contact us today.