Wisconsin's wet spring gave way to a hot and steamy summer challenging Service Manager Tim Hagen with some difficult hiking conditions that had less to do with terrain and more to do with terrestrial beings -- bugs, that is. Hagen was glad to have the company of Matt Schmidt also a service manager at Lemberg, for the summer hikes on his way toward the end of the 1000 miles of the Ice Age Trail.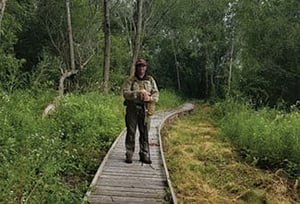 With temperatures in the 80's and 90's and the usual Wisconsin high humidity, Hagen trekked over 114 miles of the state's lush countryside filled with picturesque farmsteads, winding trails and peaceful beaches. But not all of it was kind.
Covered portions of Rock, Fond du Lac, Sheboygan, and Manitowoc counties, Hagen and Schmidt visited places with foreboding names like "devil's staircase," storybook names like "clover valley," and historic names like "Ahnapee" and "Walla Hi". In between, small towns peppered their tour with creature comforts like flatter, wood covered trails and improved campgrounds where Hagen and Schmidt enjoyed open campfires and well-deserved sleep.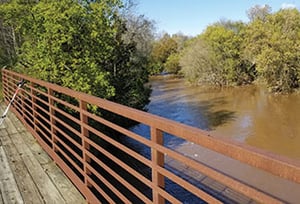 Much of the summer hikes were done under "unwavering sunlight" and battling deerflies, horseflies and mosquitos, where bug screens were convenient and necessary. The summer heat and lack of wind made stifling conditions at times and the duo were thankful for the cool respite in the shade of the canopy where ever they could.
Much of the terrain was still recovering from the state's heavy spring rains and some trails were so flooded they were impassable, but Hagen and Schmidt took the swampy landscape and the near rainforest heat and humidity in stride. They battled changing conditions underfoot and overhead as rain threatened many of their summer hikes. In mid-July, the duo waded with good humor through murky, weed-laden, thigh-high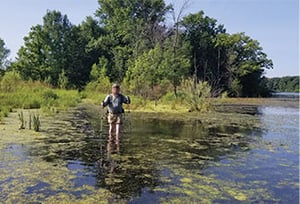 water near Storrs Lake as they checked off that 300 yards of their Ice Age Trail adventure.
Rougher glacial esker terrain proved more challenging for the duo. Trip hazards were an ever-present danger along the hilly trails covered with ankle-bending rocks and exposed roots. During their 8.7-mile hike in Greenbush, Fond du Lac County, Hagen's foot got caught up in the rough trail, causing him a hamstring cramp. He nearly tumbled down the steep terrain. He survived unscathed but for a few broken walking sticks.
Always one to know what was ahead, Hagen was good about combining shorter segments in a given location to create longer hikes in preparation for late summer segments that would top 25 miles at a time. He pays attention to the terrain differences to make sure he's prepared his body for tougher hikes. Still, the summer didn't pass without leg cramps and sore feet.
But not all segments were adverse. There were calmer, quicker, easier hiking days in drier, cooler weather and over wood covered trails, paved roads. There were portions of pleasant terrain across quiet Lake Michigan beaches dotted with metal sculpture, quiet piers, hand-made stick fences, war memorials and even a docked military vessel.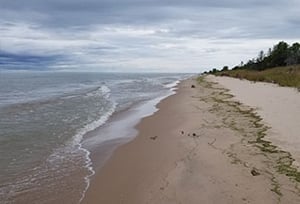 Hagen and Schmidt shared nature with bugs, birds, salamanders and deer. They enjoyed an intimate view of unique fungi and insects on the forest floor, the salamander along the beach and the panoramic views of the open beaches and sand dunes that felt at times like deserted islands. They stumbled upon historic sites where old school houses and one-room log cabins bespoke of days gone by -- images unseen in a normal workweek but treasures to those who allow themselves time to find them.
In the end, Hagen helped Schmidt to reach his 200-mile mark along the Ice Age Trail this summer. Read more about Hagen's 1000-mile goal.