Once again, we follow Lemberg Service Manager as he treks his way across the Ice Age Trail on his quest to complete the 1000-mile trail, one segment at a time. As you might imagine, weather can make or break a hike. Here we follow Hagen's first few months of 2019 as he went trailside with Old Man Winter.
January in Wisconsin wasn't kind, especially for outdoor enthusiasts. A few early hikes were comfortably sunny with winter-warm temps at 25-45 degrees. Then Old Man Winter swept the trail with Hagen bringing subzero overnight temps and overcast, snowy days that barely made it above 5 degrees. Most of us would have fired up the furnace and nestled up with a hot drink, but Hagen stayed true to his goals in spite of the colder temperatures.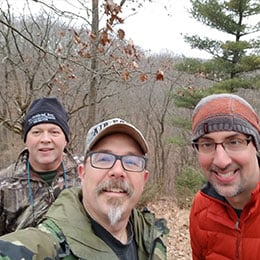 Except for the Monches segment on January 27 and the Scuppernong & Connecting Routes on January 12 when he was joined by fellow Service Managers Matt Schmidt and Gerry Maier, Hagen hiked alone for most of the Waukesha County leg of the Ice Age Trail including the Eagle, Waterville, and Delafield segments. In total, Hagen logged 22.5 miles in January.
With a little company from Schmidt, Hagen logged another 19.8 miles along the Lapham Peak, Hartland, and Merton segments early in February. For the most part, the weather cooperated. But, on a very foggy and misty February 3, while at Lapham Peak, the team experienced a setback as Schmidt had an injury to his knee and had to call it quits midway through their 7.8 hike. Schmidt bummed a ride with another hiker back to their car at the head of the day trail while Hagen completed the segment alone. Goals.
Once recovered, Schmidt was back on the trail with Hagen along the 6.8 mile Hartland segment. The trail was so ice covered that the pair had to don "crampons" to just stay upright. What is a crampon? Crampons are metal plates with spikes worn over a walking shoe to increase traction.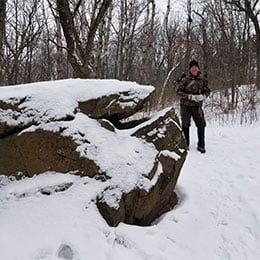 Once the ice and snow began to melt, Hagen had regular company on the trail. In March, several others from Lemberg including Schmidt, Senior Service Manager Jeff Olson and Accounting Clerk David Yazumbek began joining Hagen for the weekend hikes.
The spring temperatures were more pleasant, but these hikes would be known for long detours to avoid flooded trails and moleskin on blisters from swollen, hot feet. Hagen logged 35.4 miles along the Blue Spring Lake, Janesville and Kewaskum segments. He reports a steady building of strength and stamina. He also recommends double socks and carrying a first aid kit. Goals.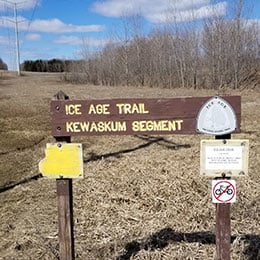 That's 77.7 miles logged in the first quarter of this year. That's roughly 312 miles a year. At this pace, it will take about three years to hike the entire 1000 miles of the Ice Age Trail.
You know, the invitation is always open – just remember to wear good shoes, be prepared for the weather and ready to move because this hiking team doesn't slow down for anyone. #Goals
Photos: (top) Hagen, Schmidt and Maier on the trail in January; (middle) Hagen on the Blue Spring Lake trail in early March; (bottom) the trailhead for the South Kewaskum trail in late March. What a difference a few weeks make in Wisconsin!
See the growing photo album on Facebook.
---
Do you hike the Ice Age Trail? Leave your comments below.