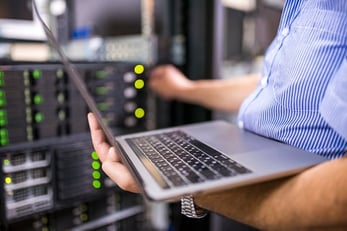 The internet of things (IoT) is the world's massive set of interconnected devices that operates through the internet. From cell phones to coffee makers, these days almost anything can be linked up to the web.
The analytics company Gartner says by the end of 2020, there will be more than 26 billion IoT devices. Some experts say this is a low estimate, and we could quickly be approaching 100 billion IoT devices by the dawn of 2021.
What is increasingly apparent in the IoT discussion is that most companies are unprepared to deal with the consequences of their devices being constantly connected to the internet. The electronics experts at Lemberg see a severe lack of security measures within some companies' systems, not to mention a lack of compatibility among different systems.
Load and Infrastructure
Can your current infrastructure handle your data load? If not, the first red flag you'll see is the bottlenecking of data transmission, which causes slowdowns, buffering, limited connectivity, and ultimately downtime for your organization.
Category 5e backbone cabling and OM1 fiber optics (62.5) can only handle so much. New technology offers bandwidths that far exceed the capabilities of an older infrastructure. In many cases, building a new infrastructure is necessary for efficient business operations. You can learn all about cabling types by downloading the eBook - the Ultimate Guide to Data Communication Construction, Expansion and Remodeling Projects.
Expansion Questions to Ask
If you're considering an infrastructure expansion, your first consideration should be your bandwidth load. Your bandwidth load is the total amount of traffic being handled as it flows in and out of a network. It is measured by bandwidth management software.
Are you struggling to meet the current bandwidth load? Do you have times of bottlenecking and slowdowns? If so, be careful not to design a new infrastructure that is too close to your current level. You'll quickly meet or exceed its capabilities. Measuring your current bandwidth allows you to properly fit your new infrastructure.
Ask the question: If our existing bandwidth load doubled, could we handle it? Data loads tend to expand exponentially because every new piece of technology is built for much larger data capacity than the one that came before. Your system must be able to handle not only today's needs, but double it, triple it, or even more.
At Lemberg, our experts are seeing more and larger wireless requirements across all industries. And we're estimating that the demand for wireless access will grow as time goes by.
Solutions: Cell Tower Service and DAS
As WiFi systems become increasingly crowded and cable systems are pushed to the limit, there are also other ways to handle your data load. One solution to the bandwidth issue relates to cell tower services and A distributed antenna system (DAS).
A DAS is a network of separate antennas that are all connected to a common central point, with wireless systems providing service that then distributes out to each node. Through boosters, you can send to serve to almost anywhere you need.
Lemberg can install boosters to allow service in "dead zones." A survey of your building can be conducted to identify the soft spots of a wireless access system. The material of the building's structure and its location relative to nearby towers, are factors in determining the number of boosters needed.
Learn more about DAS in the Ultimate Guide to Data Communication Construction, Expansion and Remodeling Projects
Investing in Upgrades
Some companies find that upgrading is financially challenging. It can be difficult to justify the investment, particularly to people involved in the process who don't understand the complex electronics and ROI the project could bring.
In these cases, we recommend upgrading the cabling infrastructure first, so you're ready to install the hardware/servers when the time comes. Cabling infrastructure is the least expensive part of the upgrade process, and it will lay the foundation for your future upgrades.
It may also be helpful to point out some compelling research that shares the impact of better buildings on business productivity. One study reported productivity gains between 2.7% and 8.6% when people weren't distracted by recurring issues in their work environments.
If your company has complex needs for managing its connectivity, reach out to Lemberg today and request a quote. As your IT partner, we'll work to achieve your vision so you can keep your business running smoothly.