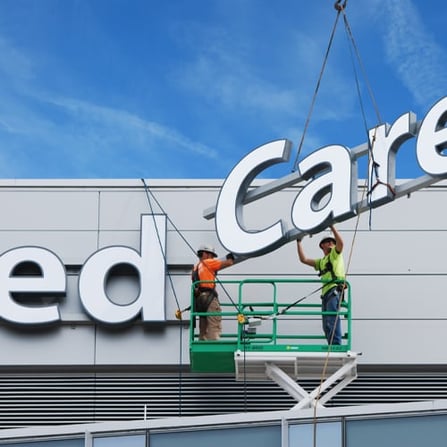 The number of details and decisions that go into creating an outdoor sign for your business is enough to make your head spin, even if you've been down the sign selection path before. Much has changed. Over the past few years, there are new regulations and advances in sign design, lighting technology, material, and construction options to consider.
But, let there be no surprises. To that end, we've teed up 12 critical factors when choosing an outdoor sign for your business.
Know Your Local Municipal Codes, Zoning Regulations and Building Requirements
You may be visualizing the perfect outdoor business sign rising high off the ground with a brilliant LED display to be visible 24X7 from over 500 feet down the road in both directions. That's great, but is it permitted by the local municipality and once approved, does it comply with the rules put forth by the property management company of your building?
As noted in our FAQs on signs:
"Restrictions for signs differ between cities. Allowable square footage, mounting height, and method, color and material, or timing of electronic changeable message signs are common parameters that need to be accounted for."
Make sure the business sign professionals will facilitate such tasks as code research, ordinance and zoning requirements, and permit procurement. Ask if they will attend mandatory plan review meetings to ensure your sign meets all requirements.
View the sign codes and regulations section on the International Signs Association's (ISA) website to learn more about what's involved.
As part of Lemberg's 11-step sign selection process, a thorough code review will be conducted following the initial consultation and site survey. This will ensure that what is envisioned will conform to all requirements and be permitted before sign design.
Determine Your Sign Budget
Carefully consider the purpose of your outdoor business sign. Will it be used to attract new business, serve as a branding tool, help facilitate impulse sales, or serve to guide customers where you want them to go? Determining your purpose will help you discover the type of sign and its various options best suited to your application.
Signage budgets will vary based on the type of sign, size, design, materials, fabrication, installation, mounting, and illumination. Other factors to consider for your overall budget planning include permitting, maintenance, repair, and service programs.
A well-planned and thought-out sign budget will help you avoid any surprises and ensure you achieve an excellent ROI on your investment for years to come.
Decide On The Right Type Of Sign
Business signs fall under two categories: primary and secondary.
A primary sign is typically used for branding and displaying your company name and logo so potential customers can find and recognize you.
A secondary sign provides additional detail to help inform or guide external or internal audiences to the specific location, products, or services they're looking for. This can include wayfinding or directional signage and these types of signs often need to follow American With Disabilities Act (ADA) guidelines.
The primary and secondary types of signs can then be displayed across various forms, including:
Freestanding: pylon, monument, digital, multi-tenant panels, directional and wayfinding.
Building Mounted: wall cabinet, channel letters, plate or flat cut letters, projecting, and awning signs.
Other: directional, notification, and ADA-Compliant signage.
While choosing the type and form of sign for your purpose, you will also want to consider lighting and placement options that will enhance your signs and message.
Determine If and How The Sign Will Be Illuminated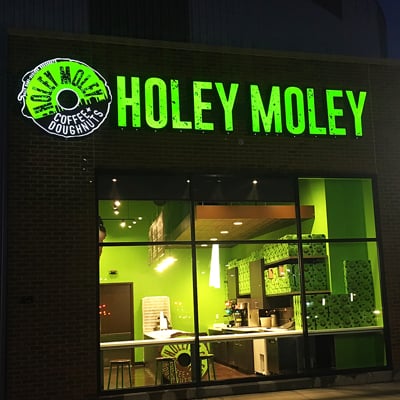 Most signs can be designed to be illuminated day or night or have an integrated digital LED Electronic Message Center (EMC).
When it comes to lighting a sign, there are many options to consider. Here's a brief rundown on popular trends for sign illumination:
LED digital signage systems (aka Electronic Message Center (EMC)
Monochrome LED signs
Lightbox or cabinet signs
Back-lit or halo-lit signs
Front-lit signs
Neon and faux neon signs
Learn more about the types, applications, and illumination options of outdoor business signs by downloading our free eBook: The Ultimate Guide to Choosing and Maintaining Business Signs.
How to Choose the Perfect Placement for Your Sign
A large number of factors influence the ideal placement for your business sign. Consider the following while scoping out the perfect placement for your outdoor sign:
The type of sign chosen and whether it will be seen from one or two sides.
If and how it will be illuminated
Whether you will integrate dynamic LED messaging.
Proximity to natural and artificial objects will affect visibility (consider the surrounding area such as buildings, sidewalks, roadways, other signs, landscaping, etc.).
Viewing angle and line of sight may impact varying degrees of readability.
Viewing distance and exposure time -- the distance at which your sign will be visible and how long a motorist will have to read the sign before they're past it.
Compliance with municipal sign ordinance and building requirements.
The best way to settle on the ideal location and placement for your outdoor business sign is to work with a professional sign company. They will include a site survey early on in the process to ensure your business sign placement meets all of the above factors and necessary criteria.
Research the Optimal Dimensions for Your Sign
Business signs come in various shapes and sizes. The visibility and readability of your sign are, in part, determined by the sign area, which contains copy and other identifying elements such as a logo and other distinguishing symbols. The letters and characters within the gross area of the sign must also be sized for optimal viewing by a potential customer who may be in transit.
Your sign professionals can help determine the proper size, type and placement of your signage based upon the viewing time of passing. For example, a sign viewer travels 80 feet per second when traveling 55 miles per hour. How many seconds and at what starting distance, will it take for your sign to be read and understood?
The maximum viewing distance will determine the font size for your sign. Calculate roughly one inch of letter height for every ten feet of distance as a rule of thumb. A sign that needs to be readable from 200 feet will need to have 20-inch-high letters.
When determining the optimum sign dimension, you must also consider zoning and municipal codes governing such elements as sign area and height. You can find out the allowable size and height of an outdoor business sign by researching your city's sign regulations, usually found on their website. For example, you can see how the city of Milwaukee, Wisconsin offers guidance for the types and sizes of signs on their page having to do with freestanding signs. A reputable sign professional can guide you through this process.
Go For An Aesthetically Pleasing Design With Legible Typography
Typography is another crucial factor impacting the aesthetic appeal and readability of a sign. As we've already noted, font types should be sized to meet a high level of legibility from the viewing distance. A script font, for example, demands a larger size letter to be easily read and understood.
Here are four elements of typography that factor into the design of business signs:
Font choice: make sure it matches your business brand
Size: a sans serif bold font works well for letter sizes on custom signs
Scale: involves scaling the most critical copy larger
Color: should be selected to make the most important text pop
The custom design process considers the strategic and stylistic use of typography to create highly legible and visually appealing business signage. The best sign designers work to ensure the typography of your sign will not only be highly readable but that it will connect with your audience and motivate them to action.
Make Your Sign an Asset to Brand Your Business
Every sign must have a purpose. For example, a sign could be used to point potential customers to specific locations or used as advertising tools to list your products and services and lead to a sales transaction. These, however, are secondary uses for signs. While most businesses may benefit from informational and advertising signs, every company needs a business branding sign.
As one sign professional put it, "A business without a [branding] sign is the sign of no business." (Source: ISA: Buying a Sign.) The purpose of a business branding sign is first to attract your ideal audience and second to help them recognize your character -- what you stand for and have to offer. Ultimately, your primary outdoor business branding sign, whether freestanding or mounted on your building, is designed to draw potential customers into your location.
Know Your Target Demographic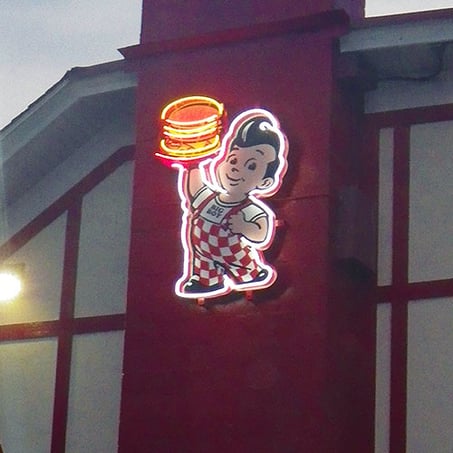 Just as in other forms of marketing, the marketing effectiveness of a business sign is a measure of how precisely it's aligned with your ideal audience. How can your business sign best align with your ideal audience to deliver outstanding results?
It begins by making sure you know your target demographic. In digital marketing, we talk about developing and using "buyer persona profiles." These profiles go beyond basic demographics. They also look at likes, dislikes, and behaviors.
We wrote about some of these factors in our article, Know Thy Audience: Make Them Move, and applied them to sign marketing:
Do they respond best to static or dynamic signage?
Do they prefer imagery over copy?
Are they drawn to specific colors?
What design trends are they gravitating toward?
A professional sign designer can help align the knowledge of your target audience with the correct design elements and materials for your signs. We'll talk about construction materials next.
Determine The Best Sign Materials, Mounting and Installation Options
The design process takes into consideration multiple factors. These include location, municipal regulations, building requirements, sign type, desired purpose, target demographics, and budget. Finally, the materials to build, install and illuminate the sign comes into focus.
Keep in mind that all the above factors must work together to create a holistic sign design that will deliver results. The materials selected for sign construction, along with its bases and mounts for installation, plus illumination options, must all be considered.
Your sign may be constructed using plastics, Flexible Face, vinyl, aluminum, or stainless steel. Each of these has varying degrees of durability and weight that are considered in the sign design process. Your designer will recommend materials, bases, and mounts with the durability and strength to withstand wind, winter, and extreme weather.
Follow A Logical, Step-By-Step Sign Design Process
Every well-thought-out marketing initiative follows a process, a sequence of events with inter-dependent actions and decisions that, in the end, meld together into a cohesive plan design. The same is valid for business signage.
Whether you're planning to erect a new business sign or looking to upgrade an existing one, it's to your advantage to work with trained sign experts who can guide the process from beginning to end. This will ensure all of the crucial factors are identified and considered, so that the sign displayed outside your business will represent your business and resonate with your target audience.
If you want to know more about the sign design process, click to view the following free resources:
Don't Forget to Factor in Maintenance and Repair Options
Any sign, especially an outdoor business sign, needs routine care. After all, they are quite often the first encounter a potential customer has with your company. Signs get dirty. Lights burn out, and sometimes they suffer damage or require repair.
To keep your signs looking their best, we recommend performing routine inspections and cleaning twice a year. Winters can be tough on outdoor signs. It's a good idea to perform maintenance tasks in both the fall and the spring.
You may also want to consider a sign maintenance and repair plan. Many professional sign companies offer service plans to take care of sign maintenance or outdoor repairs.
At Lemberg, we offer full-service commercial sign maintenance and repair for all types of exterior signage with 24x7 emergency service. Our plans can be designed even to include re-lamping, repairs, and LED conversions. It's wise to budget for a sign maintenance and repair plan as part of the sign design process.
Choosing the Right Business Sign Company
Finally, working through all the critical factors involved in choosing the right sign is made easier by selecting the right sign company. Choose Lemberg as your full-service sign company. Leverage our knowledge and expertise in custom sign design, lighting, fabrication, survey, permit, installation, maintenance, repair, and consulting services. We back up our work with over 25 years of reliable, timely installation and service across a broad range of industries and projects.
Contact a Lemberg sign representative today to get started at (267) 781-1500 or email at info@lembergelectric.com.