Lemberg has been using GPS technology for over 10 years to reliably serve its customers. Several years ago, when it came time to consider an upgrade to faster and more enhanced 3G truck tracking technology, the decision to upgrade was easy. That decision has allowed us to provide an even better customer experience.
Through real-time vehicle location and reporting, the improved technology allows us to even more accurately manage our fleet of trucks, cut costs and improve scheduling. All that translates to great value for our customers.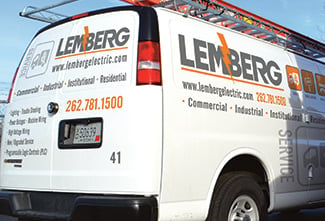 Here are 5 reasons to invest in GPS truck tracking technology
1. Weather and traffic are unpredictable.
With the unpredictability of Wisconsin weather and ongoing construction in the Milwaukee metro area, traffic slowdowns can be a problem. Our improved truck tracking system allows us to reroute our trucks to avoid delays. Where delays are unavoidable, we can communicate conveniently with technicians to pinpoint the delay and notify customers so they can adjust schedules accordingly.
2. Emergencies need the quick attention.
The truck tracking system locates trucks that are in a specific area and quickly reroutes them to manage an emergency service call. Having the ability to dispatch the closest technician to an emergency not only provides fast and efficient service to our customers, it also keeps technicians on schedule with minimal disruption overall.
3. On-the-road safety is important.
Truck tracking GPS technology is essential to the reduction of theft and damage and to the improved safety for technicians. Through it, practices like using seatbelts and on-the-road attentiveness are reinforced. Service trucks are heavy, which increases stopping time. To protect technicians and those who share the road, a maximum speed restriction can be set for a vehicle. The tracking system can also monitor the number of hours a technician has been in service on a given day. This helps to guard against fatigue, keeping technicians fresh and operating optimally.
4. Everyone loves convenience.
For everyday routing, GPS technology saves time and fuel by displaying local traffic patterns. Routes can be built and adjusted accordingly, making technician arrival times more accurate. Technicians can easily optimize driving routes and monitor fuel usage and engine issues online by using smart phones. No more messy paper driver logs.
5. Reliability is a good thing.
Tracking technology will manage a vehicle's usage and maintenance, help predict costs and guard against mechanical breakdown. Information gained from vehicle usage reporting is used to train drivers against excessive idling or braking. Using best practices reduces repair costs and keeps trucks on the road longer. Having more reliable trucks equates to more reliable customer service.
Truck Tracking GPS is just one technology used in our daily business.
For Lemberg, truck tracking GPS technology is an essential tool for daily business. We also track inventory from the field using smartphones to keep the service trucks stocked appropriately. This saves time and energy. Advances like these transfer quality and reliability to our customers.
Tim Hagen is a service manager for Lemberg's service division. Tim has over 25 years of experience in the electrical service industry and was instrumental in bringing the GPS truck technology to Lemberg.