Profile of Excellence
Up and Coming Foreman with an Attitude of Gratitude and a Passion for Code.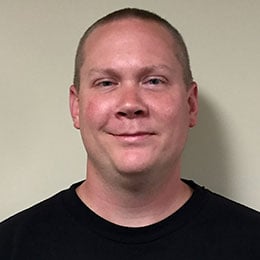 You only need a moment speaking with Lemberg Foreman Andy Feller to realize his value. He's cool, calm and ready to take on the deluge of details that come with large job site management.
"You've got to be able to problem-solve on the fly," he says. "You've got to be a smooth thinker with an extra set of eyes to see the whole picture of a project that the crew doesn't.'
To Andy, being a good foreman is about attitude, multi-tasking and communication. From ordering material to motivating a crew, he says, "you have to have the right mindset and keep the job moving along."
According to Ted Cyrs, Project Manager and Field Coordinator for Lemberg, Andy's "take charge" attitude and meticulous attention to detail on the job make him a natural for construction leadership.
"Andy has a strong desire to take charge and he has high expectations for performance. His fast progression in job site leadership is indicative of his talent and passion for the electrical trade," says Cyrs.
Andy is one of those rare people who can see the job from the 30,000-foot level and still be mindful of the details, especially where his crew is concerned. He cares about the projects and the guys that work on them.
"I like the guys I work with. They're like my brothers."
Perhaps Andy's greatest assets are his attitude toward his peers, his willingness to challenge himself and his contentment in his role.
"This is something I've always wanted to do," he says. "This is my dream job. I like the flow of the work. There's always something new and challenging. You're always learning. Seeing something grow from the ground up and knowing that you were a part of it – that really gives you a sense of pride."
"... Seeing something grow from the ground up and knowing that you were a part of it – that really gives you a sense of pride." --A.Feller
Andy goes out of his way to expand his industry knowledge and encourages others to do the same. Not one to just go home at the end of the day, Andy is known for reading electrical texts and manuals, and applying his "nerdy" knowledge of electrical code in the field. He is keenly aware that there is much to be shared between peers, whether that is code application, how to tackle a problem or how to use technology.
"Different generations have different mindsets and you can see that in the field," he says. "But I know that not everything needs to be done my way. I enjoy working together and being open to other ideas from my crew."
His path to Lemberg
Andy took time getting to the electrical construction field, despite always wanting to work as an electrician. It turns out that was time well spent, time filled with experiences that gave him some of the skills he now uses daily.
After graduating from high school, Andy worked in retail and then manufacturing before taking the electrical apprenticeship test. While others told him it could take months or years to get an apprenticeship, Andy received a call from the Milwaukee Electrical Joint Apprenticeship Training Committee (MEJATC) within a few weeks of completing the entrance exam, and has never looked back. By coincidence, Andy's uncle served his apprenticeship with Dave Washebek, President and CEO of Lemberg. Andy credits Dave for always having an open door, and making Andy feel welcome at Lemberg.
"My advice for others coming out of high school is to seriously consider the trades from the start. You will work and get paid while you're getting trained and at the end of five years, you have no loans and you make a good wage with good benefits," he says.
But he warns that the trades are not for the "wishy-washy," who want to just get by.
Notes for a New Generation of Electricians
"You need a certain type of mindset to work in the construction field and you must be dedicated. You've got to be willing to work hard, think hard and be ready for anything," he says. "The weather isn't always great and there can be some long days, but you take all that with a grain of salt. This is really a rewarding career."
Andy appreciates the leadership opportunities he's had at Lemberg so far in his career and looks forward to running even bigger jobs in the future.
"I would like to keep progressing," he says. "I like the fact that [Lemberg] saw enough in me to be a foreman. I like taking control of the job, coordinating the crew and making sure the job is done right. I want everyone to be happy, especially the customer. If the customer is happy, we look good."
But Andy's motivation for success comes from more than his peers and customers. He gets some of that motivation from his family. He's passing his love of tinkering, technology and woodworking on to his two daughters and encourages them to exercise their curiosity, be active and dream big.
"I want to make a better life for my kids," he says. And, he credits the trades with providing the financial stability he needs to do not only provide the basics but also allow him to enjoy life – to travel and gather experiences with his family.
"You've got to live," he says. "Take control of your life and enjoy every moment."
That's advice we all need to take.
---
Lemberg is a full-service Milwaukee sign, electric and data communications company, proudly serving Wisconsin. Contact our experts for a free quote today, 262-781-1500.