Profile of Excellence
Fulfillment and Foresight in the Field
Being situated 25-stories high while mounting a sign onto a building is certainly not what many envision as their "office." For Chris, one of Lemberg's lead sign installers, it has proudly been his for the last 20 years.
This trade can be very fulfilling, especially with Chris's mindset. The job itself, however, entails much more than rappelling from buildings and installing signs. Problem-solving, having mechanical aptitude and a keen sense of awareness are very important in his role.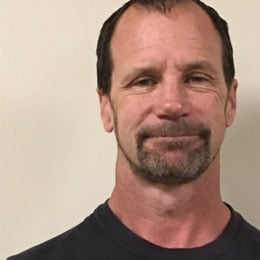 Each installation job proves the opportunity for customization. It takes strong foresight and proactivity to discover underlying issues prior to stepping onto a project. In his role, Chris meets a variety of customers that offer him a wide variety of projects.
Throughout the years, Chris has acquired the knowledge and skill set to conquer just about any of these projects.
"I especially enjoy working on the more challenging jobs," he mentions. "I am still able to use my Mechanical Engineering knowledge on the job – it is definitely not boring."
His Path to Lemberg
Chris landed a position in the industry while he was studying mechanical engineering at the University of Wisconsin – Milwaukee. He answered an ad for an awning installer and worked summers gaining experience in awning and sign fabrication at St. George Sign and Awning Company.
Once his role phased out and the company closed, he followed a few colleagues to Lemberg. The rest is history.
Chris enjoys the camaraderie of small teams as well as the solitude of the work. He notes that "you get to control your own destiny," when referring to his successes, but also notes that he could not do what he does without the support of his team. This has remained true throughout his years with Lemberg.
Seasoned Advice
Chris has been certified in rappelling for 17 years. He was initially presented with a 2-story building where he learned the ropes (literally) during his first sessions. Later, the class was put to the test on a 35-story building. Chris mentions, "you have to be prepared for something new every single day," which may be some of the best advice that he could give to a novice in the field.
"You have to be prepared for something new every single day." -- Chris
A newcomer must also be equipped to handle the unpredictable Wisconsin weather. Working outdoors year-round can be very hard on the body, and sign installation is a very physical trade to begin with.
Aside from expecting the unexpected, a successful installer must know how to operate a crane, weld and use hand tools, be comfortable in a bucket lift truck, have mechanical skills and, of course, be good with heights.
"I always tell the new guys to just concentrate and focus on what is right in front of them," he says. That's noteworthy advice for those in any industry with any skill set.
Loyalty until the End
Although Chris mentions that he is "just a regular guy," it is quite evident that he is far more than that.
"Chris's years of service have been a great benefit to Lemberg and our customers," says John Wachniak, sign division manager at Lemberg "We thank him for working so hard for us and for our clients – his dedication is beyond meaningful."
Lemberg has been loyal to Chris throughout the years, and he now feels that he is repaying the company back with his own loyalty.
Regardless of what the future holds for Chris, he reminds us that, "time passes, technology progresses and I am still having fun."
---
Lemberg is a full-service Milwaukee sign, electric and data communications company, proudly serving Wisconsin. Contact our experts for a free quote today, 262-781-1500.