Profile of Excellence
Quietly Serving Customers with Signature Care
Well before the start of the average workday, Service Manager Ethan Newton, is already hard at work. His desk sits at the far end of a long and narrow office, beyond a nearly room-length counter where project plans are spread about for reference. Here, he quietly taps out estimates, planning documents and communications to customers and team members. Though his official title is Service Manager, he is part project manager, part estimator and part customer relations executive.
"From start to finish, I am involved in every job," he said in a recent interview.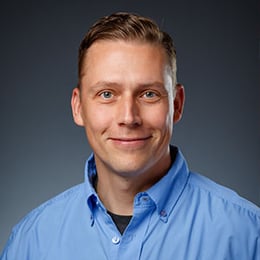 He is dedicated to performing completely and accurately. He does his job with grace and a sense of assuredness that only comes from years of experience, and he does it all without so much as a wrinkle to his neatly pressed button-down.
Ethan began his career as an electrical apprentice in Milwaukee in 1998. After a few years in the field, he landed at Lemberg, where his customers received his signature care. Moving up through the field ranks and into his current role in the office, he is now part of a robust team of service managers and electricians that apply their expertise and experience to projects all over southeastern Wisconsin.
In fact, that is what makes the job interesting for Ethan. Like most in the electrical field, he enjoys the wide variety of projects that come his way. Through those projects, he gets to experience all parts of the city and the interesting and oftentimes historic buildings within it. But mostly, he enjoys making his customers happy.
"You have to be good with people," he said. "Mechanical skills are important in this industry, but attitude is huge. You've got to have good customer skills."
Ethan discussed the qualities that make a good electrician like curiosity and tenacity. He stressed the importance of being able to solve problems and being willing to learn and improve.
"You have to want to solve a problem. You can't quit. You have to keep working different angles until you get the best solution."
The need to find the solution coupled with the desire to please the customer are what motivate Ethan every day. For him, the easiest way to keep a customer happy, avoid confusion and get everyone on the same page for a project is to provide clear communications.
His Professional Path
As a teen in the early nineties, Ethan saw parents of his friends and even his own father lose their jobs to the recession of that decade. He became motivated to learn skills that would ensure he could always work. He set his sights on becoming an electrician. There was a consistent need for electrical expertise and wages were good, even during training. As he waited for his apprenticeship, he worked as a material handler with a small local electrical contractor. At the time, there was nearly a 2-year waiting list. Within four months, he beat the odds and received his apprenticeship.
After a brief time with another local contractor, Ethan was assigned to Lemberg.
"Everyone says it's a good place to work, and it is," he said. "It is the right size. It's large enough that you get to work on a variety of projects but small enough where you're not a number."
Advice for Those Seeking to Join the Electrical Field
After more than 20 years in the field and many more recessions, Ethan still recommends becoming an electrician. Though the essentials of electrical work don't change, the need will always be there. With the progression of technology in areas such as green energy and building automation, electricians have never been more essential but those advances and the consistent changes to the construction process require electricians to adjust how they perform the job. They have to continue to learn, adapt and be coachable.
"If you can learn, you'll be ok. The skills will come," he said. "More importantly, you have to be open to coaching and be involved in your own learning. If you are sensitive to criticism and don't have the humility to ask a question, or you're difficult to work with, no one is going to want to work with you."
With so many different areas of the field to excel in, there is a niche for everyone. Admittedly, there are dues to pay, like getting up early, getting a little dirty or being cold sometimes, but being an electrician can lead to a lot of other areas. The skills can be applied elsewhere. For example, having the electrical or construction background is valuable if one chooses to become an architect, engineer, or designer in the future.
For Ethan, the most valuable electricians show up and work hard every day. They focus on solving the problems for the day and anticipate the problems of the next day. They ask lots of questions so they can be well-informed and better equipped to solve the problems and make the customer happy. Most importantly, they are aware of the project timeline and know that there is always something that has to be done, they just have to have the initiative to find it.
"You don't have to be the best," he said. "But, you do have to be reliable and take the initiative."
About Ethan
It's not hard to sit in awe of someone like Ethan. His ethics are clear and his demeanor is soothing. Perhaps that comes from the perspective that he has gained from his love of travel. He has been to the continents of Africa and Europe three times each, including Vienna, Lisbon, London and an eye-opening experience in Lagos, Nigeria. He and his wife enjoy cooking and are avid volunteers, especially during this pandemic. Even with a busy family, bustling private and work life, Ethan finds time for things like learning a new language. He is currently learning Arabic.
---
Lemberg is a full-service Milwaukee sign, electric and data communications company, proudly serving Wisconsin. Contact our experts for a free quote today, 262-781-1500.