Profile of Excellence
"Old School" Service with State-of-the-Art Skills
In today's ever-changing world, hearing the term "old school" might produce a wince, but when it is attached to quality, skills and customer service, being referred to as "old school" becomes the highest compliment.
Meet Jeff Rondeau, one of our best and brightest foremen who brings new meaning to the term "old school." With over 25 years in the electrical industry, he is technically savvy and has the experience to see what others cannot. He is a professional, putting his customers at ease with an "I've-got-this" attitude. He does it all with a friendly and open nature that instills comfort and confidence.
His ready smile speaks of the love he has for his work. That is the kind of wisdom-beyond-your-years "old school" grounding that we're talking about.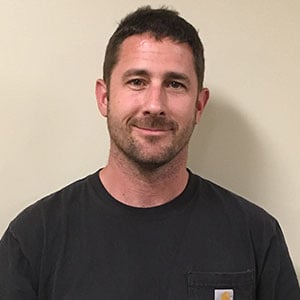 Contagious Passion
Jeff has been working in the healthcare industry exclusively for over 15 years, performing estimating, project and team management, and foreman duties. He is currently Lemberg's electrical liaison at Froedtert Menomonee Falls Hospital, overseeing the onsite day-to-day operations, electrical safety, electrical record drawings, and troubleshooting issues. He coordinates with the customer and with other trades to keep operations running smoothly and discreetly.
When he speaks about his work, there's a passion in his voice that is contagious -- and priceless.
"I am an electrician by trade, and I enjoy the challenge of the evolution of that journey," he says of his current role. "Every day is a new challenge. I enjoy the troubleshooting. I enjoy the critical nature of the problems I need to solve. I enjoy the intensity of the challenge."
It Started with the Tinkering
"As a kid, I was a tinkerer," Jeff says. "In high school, I took two years of electrical classes and got experience doing wiring, which sparked my interest in the electrical field."
("Sparked" his interest? We see what you did there, Jeff!)
Jeff comes from a union family and started a 5-year apprenticeship at Milwaukee's Local IBEW Union #494. Between the wages, the benefits, and the comprehensive training, he felt it was the best route for him.
"It's like a working internship that really builds the right skills," he says, adding that he was motivated by his interest in both the technical skills of the trade as well as the theory behind it.
His Recommendations for Others Seeking to Enter the Field
For Jeff, being a union electrician was the right choice, but he acknowledges that not everyone will find that same fit. He warns that the job can be rough with "crazy on-call" hours and a lot of variety in job duties, location or environment.
"Start with a good background in math," he says, "get comfortable with variety, and do your research."
He recommends students check out not just the electrical trade but all the trades, like plumbing, steam fitting, construction, etc. Investigate them all to find the right fit. Learn about the wages, benefits, and the job outlook and prerequisites associated with each.
His Path to Lemberg
Union electrical apprentices receive classroom and on-the-job training at the same time. The classroom portion happens at one of the Milwaukee Electrical Joint Apprenticeship Training Center locations. The on-the-job portion comes from one of the union-based local electrical contractors. New apprentices must pass a written and a dexterity exam and be interviewed and scored by a panel of trade professionals. Contractors are given a chance see the score and interview the apprentice to select the best fit for them.
Jeff felt lucky to be selected by one of Lemberg's legacy leaders and to begin his own legacy with the company.
"Lemberg makes it easy to like my job," he says.
Early in his career, Jeff worked with the Service division at Lemberg, honing his electrical skills and discovering his own style for customer service. With his exceptional organizational skills, his wide skillset, and his eye for detail, Jeff is ready for anything his current role throws his way.
"I enjoy the challenge of healthcare and the complexity of the design of all the systems," he says. "I'd like to continue to grow and manage larger and larger projects. I am open to whatever is needed."
Final Thoughts
They say that if you love what you do, you'll never work a day in your life. For Jeff, that seems true. When he isn't working, Jeff says he is usually working. There's always a project around his house to do, and when there isn't, he's helping others with theirs.
His passion for his work is second to only his family, who keep him on his toes, and his outdoor hobbies, which he fits in whenever he can.
Jeff is a busy guy, but in typical "old school" fashion, he likes it that way. Remember, he's got many years of tinkering and troubleshooting behind him and when you're troubleshooting for customers, experience matters.
---
Lemberg is a full-service Milwaukee sign, electric and data communications company, proudly serving Wisconsin. Contact our experts for a free quote today, 262-781-1500.