Profile of Excellence
Details and Artisan Quality are Second Nature to this Data Comm Project Leader
Data Communications Foreman Justin KumorKiewicz doesn't just walk into a room, he commands it. Sitting near him, you get the distinct feeling that he has noticed and assessed every important detail in the room. But then, that's his job.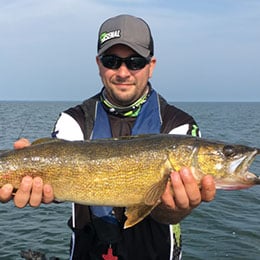 Justin is a project leader for the Data Communications team at Lemberg, which offers design and installation services for companies that need data cabling, building automation controls, WIFI, security cameras, door access, fire alarm and other life safety and communications systems.
As a career technician, Justin is used to managing details and solving problems on the fly. In a future-forward field like data communications, these are valuable traits to have.
"Our trade is constantly changing," he said in a recent interview. "There are always new things to learn to accommodate changing technology."
His Professional Path
Justin started his career in the residential sector, learning on-the-job with a small construction business owner who was willing to give him a chance. At the time, there was no formal entry into the data communications field. Today, there is a Data Communications Professional Apprenticeship being refined annually by trade and union organizations like the IBEW494 in Milwaukee and professionals like Justin's division manager, Ernie Garza.
To Justin, the combination of formal and on-the-job training offers new technicians the opportunity to try out a niche field with little risk and without amassing a large debt.
"Like anything, unless you try it, you'll never know if it is the right path for you," says Justin. "You get great benefits and you come out with no debt, a great career and a salary that beats most college degrees."
Electrical and Data are great fields he says, but you can't be afraid to work. The trades are inherently physically and mentally demanding. Though there is now classroom instruction, most of the learning happens on the job. The ever-changing landscape of technology offers plenty of opportunity for technicians to excel and specialize. For Justin, it's all about pride.
"Everything we do is visible," he said. "You can tell the difference in those who take pride in their work and those who don't. There's an art to what we do. It takes finesse."
Some projects can look nothing short of artistic. To get that type of precision, Justin says that there's about 20-30 tools used in a given day, from regular to specialty tools. That number is only surpassed by the wide range of skills needed to tackle the variety of tasks his team manages. Like others in his field, Justin has built a range of technical abilities that cover everything from structured cabling and networking to the installation of essential specialty services under the low voltage umbrella like fire alarm, access control, and security. His future plans include additional certifications and continued education in the field to expand his expertise.
Justin is relatively new to Lemberg's experienced Data Communications team, but he's a solid player who sees himself here for a while.
"It took me over 8 years to get to Lemberg," he says, "but of anywhere I've worked, Lemberg had a great feel from the moment I walked in the door. It's a big company with a small business feel to it. When an employer shows they care, it means so much more. If you're a number, it's just a job."
Living and Leading
Justin's skills are evident in how he spends his free time as well. He's an avid outdoorsman with a hefty list of hobbies including carpentry, gardening, and auto-mechanics. But Justin's heart is in fishing. As a leader in a local club for competitive fishermen, Justin's talent rises to professional levels, complete with sponsorships.
Professional grade data communications technician with professional grade outdoor skills -- if that's not a reason to own a room when you enter it, we're not sure what is.
---
Lemberg is a full-service Milwaukee sign, electric and data communications company, proudly serving Wisconsin. Contact our experts for a free quote today, 262-781-1500.