Never Fear, He's Got Your Sign Project Covered
Watching Tom Lehn move throughout his day, you get a sense that no matter what happens, he's got it under control.
In his role as Operations Manager of the signs and lighting division at Lemberg, Tom is responsible for the division's operations and manpower. He oversees the field crews and makes sure that they are equipped with the information and tools needed to be successful. He plays a pivotal part in the sign installation process, acting as liaison between project managers and field crews, customers and general contractors. His goal is to make sure everyone's expectations are met.
And he's killing it.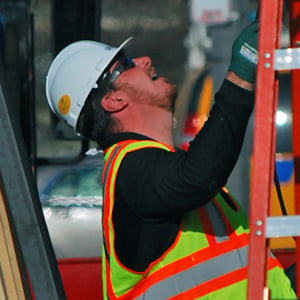 "This job requires a great deal of attention to detail and the ability to make quick decisions," he says. "A calm demeanor is needed to make sure everyone stays calm and sees the end result."
That controlled demeanor may have something to do with his 21 years as an active volunteer fire fighter and first responder with the Slinger Fire Department. Tom says he enjoys variety. Whether that is responding to emergencies or managing the many moving parts of a sign design and installation process, Tom thrives on the challenges that come with the territory.
"The sign trade isn't for everyone," he says. "Tight deadlines can lead to stressful days."
Tom admits that sometimes the days can get long in an effort to make the customer happy but it's ultimately about satisfying the customer.
His advice to others considering the sign industry
Signs are the most recognizable piece of marketing and advertising a company will purchase. The sign industry offers positions from sign design to project management to installation.
A solid knowledge of sign construction and installation methods, and being able to offer technical feedback, are keys to keeping a sign project running smoothly. According to Tom, the most important skill to have is a passion for providing a good experience for the customer.
"You have to have a passion for providing the customer with a great looking sign," he says.
His path to Lemberg
Tom started his career with a dual-education in Printing and Publishing and Warehousing and Inventory Control, where he spent 8 years post-graduation. He landed a job in a local sign shop, learning the trade and even how to hand paint signs.
Tom spent the next 20+ years learning the various aspects of the sign industry. He's worked with several sign companies in the region but says his experience with Lemberg is "one of the best."
"Lemberg's Sign Division is, in my opinion, one of the best to work for because of the ability to work with 5 divisions and a strong field of installers," he says.
Employee ownership of the company is a driving factor in Tom's satisfaction with Lemberg. He prides himself in being busy and involved in his community. Tom's passion for giving back fits the ESOP model, where growth is dependent on the engagement of the employees.
"Growth is always good," he says. "I hope to see myself grow with the company. Whatever direction that takes me is still to be determined but I have never been known to settle for the norm."
That's great for everyone: Lemberg, Tom and his customers.
---
Lemberg is a full-service Milwaukee sign, electric and data communications company, proudly serving Wisconsin. Contact our experts for a free quote today, 262-781-1500.