Profile of Excellence
Quietly Creating Happy Clients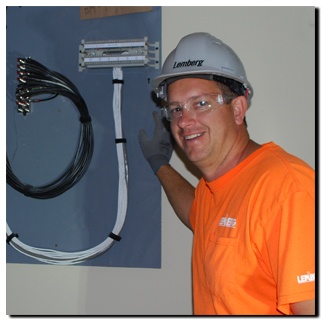 Meet Roy, a member of Lemberg's data communications team who enjoys building relationships on the job. We visited Roy on a local jobsite to talk about his work and about the importance of fitting your interests to your career choice.
Working side-by-side with one of Lemberg's electrical construction teams, Roy and his data communication team were pulling network cable to connect a new addition to an existing section of an assisted living center. This type of collaboration was common from the bidding process through job completion and offers Lemberg's clients "a complete and one-stop job." Roy talked a little about the challenges of this kind of mixed new construction-existing building job.
"Things are definitely easier in new construction because the studs are exposed," he explained, as he led us quietly and as inconspicuously as possible through the home to a newly decked network closet. There, he pointed out the way he and his team had neatly tucked cabling to a series of pathways and panels. His pride was evident and the end product will undoubtedly please the client.
Roy is proud of the relationship-building he does while on the job and notes that clients will ask for him by name. Whether that is with the IT department of the end client or a general contractor, it seems Roy is making a name for himself through his attentiveness and quality.
His Path to Lemberg
Roy shared how he came to work with the Data Communications team at Lemberg. With an interest in computers, he began in college studying computer programming but wasn't thrilled about a future behind a desk. He knew he would enjoy work with more on-the-job problem-solving.
Even so, he was apprehensive when a friend suggested he join the Lemberg team. That was twelve years ago. Today, Roy enjoys running jobs for Lemberg and looks back on the decision that he now knows was right for him.
"I started out as a CW [Construction Wireman] class electrician," he said, "before moving to the data communications side of the company. Data sort of takes over where the electricians leave off. We do communications, computer networking, fiber optics, lighting, wireless, HVAC, power over Ethernet – anything low voltage."
Why Lemberg? Roy explained his decision.
"At Lemberg, you're more than a number." -- Roy
Notes for a New Generation
We asked Roy what advice he might have for a new generation of high school graduates considering the data communications or electrical trade. He said that the fields of electrical and data communication have lots of potential for growth and individuals have the ability to earn a good wage earlier in their career. For Roy, it's the project-based variety and collaboration among trades on the job that keep the work interesting.
He listed off several qualities that are important for success in this industry including good critical thinking, problem solving skills and being mechanically inclined and then added "being able to work on your own and take direction."
It's those last two that help move a new technician up through the professional levels of the trade and on toward success.
---
Lemberg is a full-service Milwaukee sign, electric and data communications company, proudly serving Wisconsin. Contact our experts for a free quote today, 262-781-1500.