Profile of Excellence
A Powerful Presence with a Personal Touch
Driven, organized and confident are just a few words to describe Wendy Thorgersen, a project manager for the data communication division at Lemberg. From estimating and selling products, to managing timelines, teams and budgets – Wendy is a successful "Jill-of-all-trades."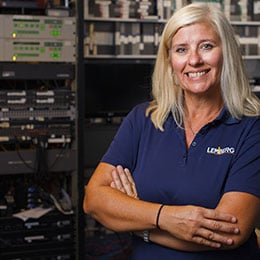 Wendy balances a workload that includes selling and estimating low voltage products, voice, data, security, card access and CCTV, sound PA intercom systems, and cellular and WIFI boosters. She is also the team lead for her own projects, where she is accountable for material orders, financial obligations and building and maintaining customer relationships. Her long task list keeps her busy and motivated to drive projects to completion in, what seems to be, an effortless manner.
Easy, right?
Wendy's job is certainly not always easy; It takes a special skill set to accomplish what she does. One skill, however, takes precedence in Wendy's opinion – preparedness.
"You need to be ready, and be present," she said. "You have to understand and uphold deadlines."
Time is not all that Wendy manages. As a manager of teams, she is a leader and advisor. Wendy checks in with her teams throughout the day, supporting them as needed. Her role entails a lot of collaboration and collective problem-solving, often in areas of interpersonal relations. She truly values the individuals that she works with.
"I enjoy the variety," she said. "I like dealing with my teams. That interaction is what I enjoy most."
Confidence is also key in the electrical industry, especially in Wendy's case. She notes that, "As a female, you have to be self-assured. When you're in a male-dominant industry you have to be confident." Wendy is typically one of the only females onsite at any given time, so when she walks onto a project site, she ensures that others know she means business.
Data Communications Division Manager, Ernie Garza, can also speak to this. "Wendy is very organized and knowledgeable in her role. She knows what works best for her team and stays true to the solutions and ideas that she believes in," he says. "She is an all-encompassing representation of a successful project manager."
Her Path to Lemberg
Wendy fell into the data communication field through a former customer while she was working at a local bank chain. She was the bank's facilities manager and was bidding projects while working on phone systems and programming. She worked closely with her data communications vendor who walked her through the work at her location.
She learned and liked the process so much so that when it came time to find a new position, she found herself going to the vendor who'd helped her all along. While working for some higher profile companies, like Roger's Memorial in Oconomowoc, she naturally progressed from the phone system programming and installations to a project manager.
Wendy chose Lemberg for the smaller size and family-oriented workplace environment where she can see her contributions. In her experience, she saw how fast growth could be detrimental to the employee and customer experience.
"It sacrificed the 'personal touch.'"
Reliable Advice
According to Wendy, someone new to the industry must have some background in the products and understand how data works as it relates to backbones, station tables and communication skills. The variety and number of responsibilities that a project manager balances do not allow time for setbacks, so organization is key to staying on track.
"As a project manager, you need to be detail-oriented, organized and understand what is needed to create a custom solution for the customer, including the products," says Wendy. "You need to be able to apply that knowledge to the financials. You're an analyst in that way."
She stays true to Lemberg's reputation for being proactive in creating solutions and providing a quality product.
Some of Wendy's best advice? Staying ahead of the game.
"You must be proactive; do not procrastinate. Make a list ahead of time and prepare for the days ahead, she said. "You must follow through on your commitments the first time. It's never good to be the center of attention in a job meeting because your team didn't finish on time, or something went wrong."
Just as in any role, it is important to stick to your word and complete your work on time. Wendy feels strongly about being reliable and trustworthy, regardless of the circumstances.
"Male or female, you need to do what you say you're going to do and do it on time." Accountability will make any project manager, and business, successful.
Next Steps
With the expansion of building automation, fire alarm, lighting controls, and the general internet of things (iOT), the data communications field is only going to grow. Like other trades, the candidate pipeline is thinning. Without a formalized track to enter the field, mentorship is key.
NECA-IBEW is now offering a newly invigorated data communications apprenticeship, however the quick-changing landscape of technology affects the instruction and information presented. Good instructors are needed, and Wendy sees herself as a potential mentor to younger technicians.
Technology and data-related information may be ever-changing, but Wendy proudly admits that she doesn't plan on making changes to her career anytime soon. Regardless of the changing landscape of the field, Lemberg is home to Wendy. And home is where she likes to be.
---
Lemberg is a full-service Milwaukee sign, electric and data communications company, proudly serving Wisconsin. Contact our experts for a free quote today, 262-781-1500.