Back To Projects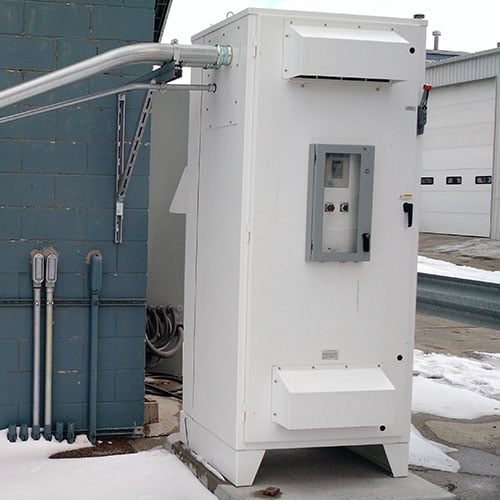 American Asphalt
Lemberg is an ongoing partner to American Asphalt. Recently, when the company sought to lower its energy consumption while still producing consistent results, Lemberg provided assistance. After evaluating American Asphalt's mechanical components, Lemberg electricians determined that the motors at the plant were at risk for damage or failure due to overload and, as a result, not energy efficient.
To provide a more energy efficient solution that would also produces less stress on the motors and therefore less risk, a Variable Frequency Drive (VFD) was installed. A VFD uses electrical frequency and voltage to gradually bring the motor to operating speed, control the motor speed and torque while in use. In this application, a VFD generates significant energy efficiency. This project also included installation of grounding rings to make the motor compatible for VFD installation. Existing controls were reconfigured to a modern, digitally controlled system. This produced a reduction in energy consumption and a savings that surpassed the cost of installation within the first year.
In 2020, Lemberg was hired by American Asphalt to install exterior security lighting in their operations yard. Powerful 400-watt LED equivalent floodlights were installed to increase light in the area.
Project Features
Variable Frequency Drive (VFD)
Digital controls
Energy-Efficiency
Preventive and Predictive Maintenance
Electrical Service
Security Lighting
LED
Details:
Location: Menomonee Falls, WI
Industry: Commercial
Divisions: Service
Project Type: Service-Maintenance