Back To Projects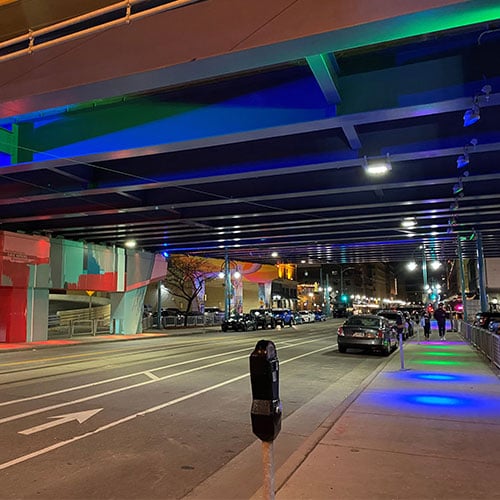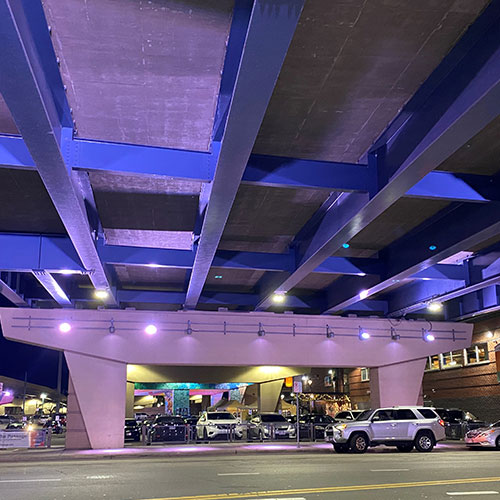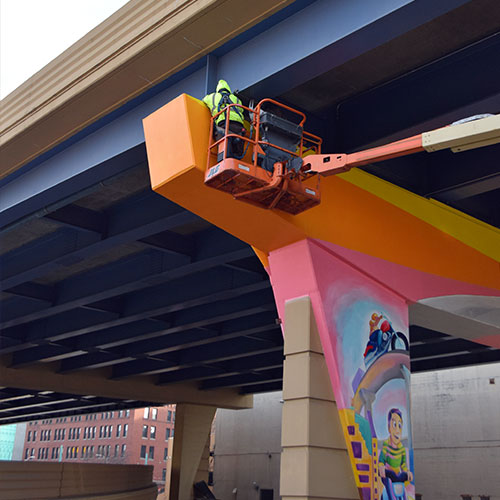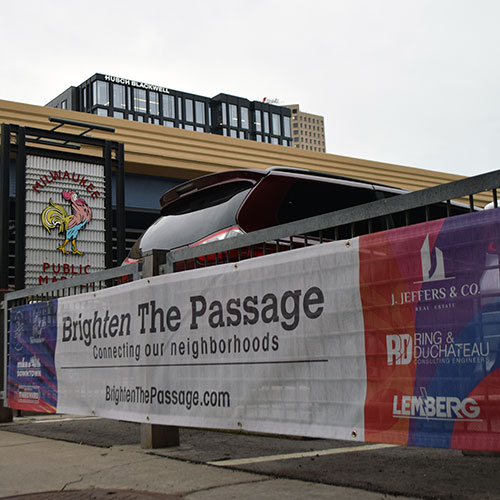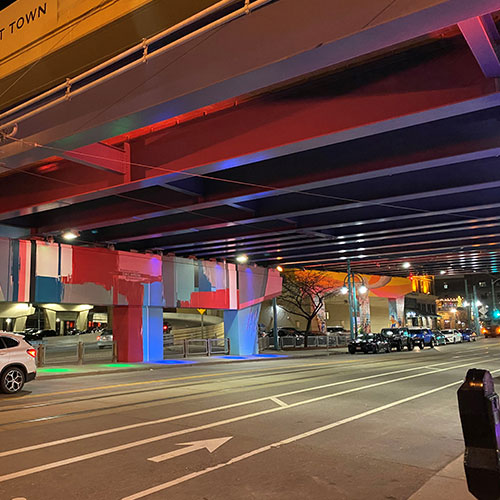 Brighten the Passage
Lemberg installed programmable LED lighting in the highway I-794 underpasses at Broadway and Water Streets in downtown Milwaukee as part of the Brighten the Passage project and an overall masterplan to shore up Milwaukee's downtown economy.
The project is a multifaceted effort to create a sense of space and entice foot and vehicle traffic from the downtown business district to the shopping area of Milwaukee's Historic Third Ward. Earlier in 2020, four artists (Tia Richardson, The Couto Brothers, Josie Rice and Dave Watkins) were commissioned to paint colorful murals on the freeway piers in the underpasses along Broadway to enliven the space. The LED lighting illuminates both the art and the walkways.
Brighten the Passage transforms unappealing "dead" zones into well-lit and artful corridors between downtown and the Third Ward. It is a joint effort of several Milwaukee groups led by Milwaukee Downtown, BID #21, and the Historic Third Ward, and includes the City of Milwaukee and The Milwaukee Public Market as well. Community support for the project came from J. Jeffers & Co., Ring & DuChateau, LLP, and others. Find out more at www.BrightenThePassage.com.
Lemberg Signs and Lighting created temporary banner signage to advertise the effort. Banners were placed along Water, Broadway and Clybourn Streets. The signs were donated by Lemberg.
Project Features
LED Programmable Lighting
Electrical Wiring
High Density, High Rise Installation
Energy Efficient
Details:
Location: Milwaukee, WI
Industry: Commercial
Divisions: Construction, Signs
Project Type: New Construction
Year Completed: 2020